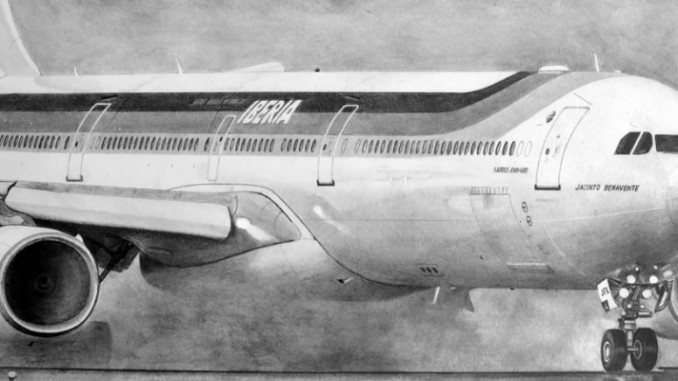 Have you ever been bored and doodled some airplane "art" on a piece of paper or even a napkin? As aviation enthusiasts, we all probably have at some point, but our doodles don't even come close in comparison to this AvGeek's aviation sketches.
Meet Carlos Lugo, an aviation student currently living in the Miami area. Carlos not only takes gorgeous photos of airplanes but he also can draw them with extreme detail. He is currently a full-time Aviation Business Administration student at Embry-Riddle Aeronautical University Worldwide and is also an intern at Miami International Airport.
Carlos says that he has always been obsessed with aviation since he was a little child. Coming from a very artistic family (his grandma is a painter), it did not take long for him to develop a more artistic approach to his passion. He has been drawing aircraft since he was three years old and has not stopped since. He has developed new techniques and has naturally gotten better with time, but the passion remains to this day.
The beautiful sketches without background take 8-10 hours. With background, they take up to 72 hours. Of course he takes breaks, but that accounts for the total time spent on the sketches.
The photos themselves come from a variety of sources including his own photos, photos that his friends have taken, or pictures that he has obtained online.
Check out some of Carlos' sketches:
Are you wondering just how detailed his sketches are? Check out this original image of an AeroMexico 737-700:
Ryan is a young avgeek who enjoys all aspects of aviation. He has had experience in almost every field of aviation. From writing articles to actually flying, Ryan has done it all!

He has about two hours of flying "under his belt" and he has a collection of 40 plus airplane models, plus airline memorabilia, collectibles and hundreds of aviation photos. Now, Ryan mainly writes articles and collects avgeek stuff. He's had his head in the clouds for more than 16 years and will always look up when he hears a jet roar. In addition to writing and editing for AirlineGeeks, he volunteers as a Travelers Aid at Reagan National Airport in Washington, D.C.
Latest posts by Ryan Ewing (see all)