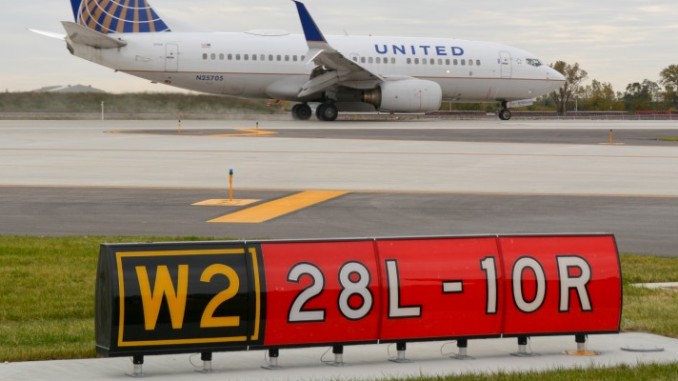 On Sunday, Chicago Mayor Rahm Emmanuel announced the next step of Chicago O'Hare's multi-million dollar modernization, including plans for a new runway and the potential for terminal enhancements and more gates.
"The Mayor's goal for the airport is straightforward: to make it the best airport in the world," said Chicago Department of Aviation Commissioner Ginger Evans. Evans focused on the scope of the project, saying, "This is not just an airfield deal…This is the key… to add gates."
The $1.3 billion plan announced Sunday comprises of a new runway, Runway 9C/27C, and many airport capital improvement projects, including a new taxiway system and centralized deicing. These improvements are aimed at decreasing delays, a serious concern for an airport with the worst on-time record in the nation in 2015. Mayor Emmanuel also highlighted the economic benefits, claiming the new project will provide 5,000 new jobs in the Chicago area. Critically, concrete plans for terminal or gate expansion were not part of the announcement.
Runway 9C/27C will be the eighth and final runway in a new plan to consolidate O'Hare's current four parallel, two diagonal, and three intersecting runways into just six parallel and two diagonal runways. The planned addition of an 11,245-foot-long runway, the second longest at O'Hare, is meant to balance operations between the north and south sides of the airport. It will allow simultaneous takeoffs and landings on the north side. The new runway, set to be commissioned in 2020, will be predominantly used for arrivals and is expected to cost $648.5 million.
FAA Administrator Michael Huerta heralded Chicago as a "lynchpin for aviation commerce," adding that the new runway is "one of the final steps in realizing a fully modernized and efficient O'Hare Airport." The FAA will provide over $960 million for the project.
United and American, both of whom operate hubs at O'Hare, have been active participants in the planning process, although their specific contributions have not been disclosed.
"[We] consider ourselves the hometown airline for the City of Chicago," said United CEO Oscar Munoz, in one of his first public appearances since returning to work following a heart attack late last year. Munoz named O'Hare a "cornerstone" for their global network. United currently operates over 500 daily flights from O'Hare, serving 15 million customers yearly from the airport.
American Airlines Senior Vice President Stephen Johnson, also present at the announcement, emphasized the central role of O'Hare in American's network, as well as American's large Chicago workforce. American currently employs almost 9,000 employees, and has added 500 new employees in the last year alone.
Arguably the most important piece of Chicago's modernization, an airport use and lease agreement with the airlines, was not part of the announcement. A new agreement would allow for more gates, key in alleviating taxiway congestion. United and American have been resistant to any agreement increasing gate availability, however, the Mayor indicated negotiations are underway, and an agreement is set to be finalized by 2018.
Mayor Emmanuel set an ambitious schedule, emphatically declaring construction would begin by May of this year. Evans reaffirmed his statement, adding an informational session for engineers would be held this Friday and a bid would be announced by March.
Christopher joined AirlineGeeks.com in 2014 before spending a year with the marketing department at the Newport News/Williamsburg International Airport, and he is excited to be writing again. He is currently a student at Fordham University pursuing a degree in Marketing and hopes to join a major airline after graduation and help improve the passenger experience.

Christopher has a longstanding passion for aviation, fueled by constant travel as part of a military family. In his free time, you can find Christopher plane spotting, collecting airline memorabilia, or stargazing, and he maintains an extensive model aircraft collection. He also enjoys music and plays the saxophone and sings in the University's choir when not preoccupied with aviation.
Latest posts by Christopher Dollesin (see all)