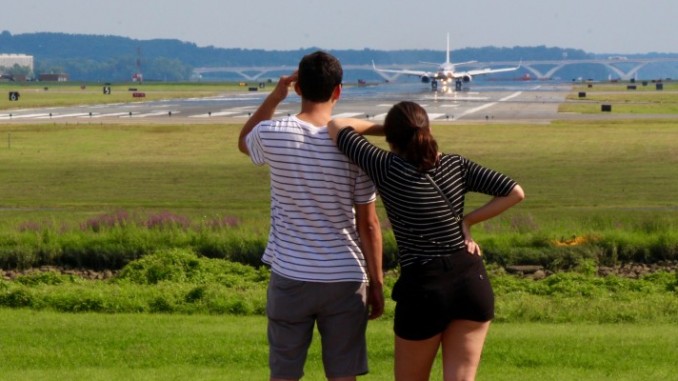 Valentine's Day is this Sunday and while many couples will have a standard dinner and a movie date, us aviation enthusiasts are always thinking of ways to change things up. Here are seven #AvGeek Valentine's Day ideas:
1. Go planespotting 
Yes, it is that simple. Grab a camera, a radio scanner, and drive over to your local airport to watch some aircraft movements. If you are really feeling it, perhaps make it into a picnic.
2. Watch a good aviation movie
Grab your 787 coffee mugs, fill them up with some hot chocolate, and turn on your favorite aviation film. We recommend our new documentary Grounded, but that's a little bias on our part.
3. Go to a local aerospace museum 
Sometimes, museums can be a fun way to show off your knowledge of aviation and to learn other stuff about the ever-changing aerospace industry.
4. Do a discovery flight
Many flight schools offer some kind of "discovery flight" in which you can go hands on and experience how an airplane flies accompanied by a flight instructor. After all, flying is romantic.
5. Surprise your significant other with a flight to an exotic destination
For us #AvGeeks, there is no better Valentine's Day gift than to fly somewhere and with a significant other, it is even better.
Ryan is a young avgeek who enjoys all aspects of aviation. He has had experience in almost every field of aviation. From writing articles to actually flying, Ryan has done it all!

He has about two hours of flying "under his belt" and he has a collection of 40 plus airplane models, plus airline memorabilia, collectibles and hundreds of aviation photos. Now, Ryan mainly writes articles and collects avgeek stuff. He's had his head in the clouds for more than 16 years and will always look up when he hears a jet roar. In addition to writing and editing for AirlineGeeks, he volunteers as a Travelers Aid at Reagan National Airport in Washington, D.C.
Latest posts by Ryan Ewing (see all)