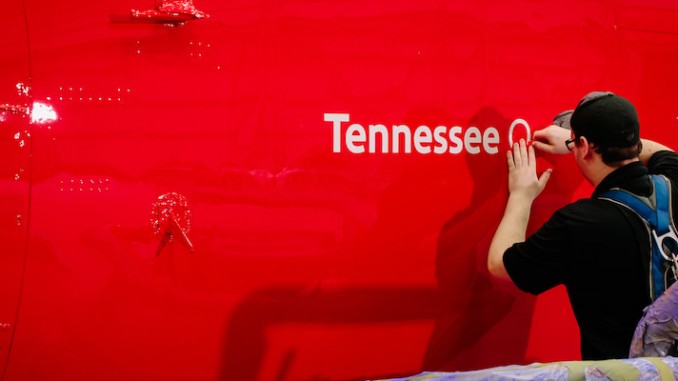 On Monday, Southwest revealed its newest state-themed jet, Tennessee One. The aircraft, a Boeing 737-700 (N922WN), features a decorative rendition of the Tennessee flag.
In Nashville, Southwest brought employees, customers, and community members for a flight to Memphis and a special "Live at 35" concert featuring country music stars Chris Young and Cassadee Pope.  Celebrations in Nashville and Memphis included performances from a number of country groups, including A Thousand Horses and Ghost Town Blues Band.
Southwest began serving Nashville in 1986 with two destinations. Today, the airline operates over 80 flights from Nashville to 33 destinations. Southwest entered the Memphis market in 2013 with six flights to five destinations and has since expanded to nine flights to six destinations.
"When we began serving Memphis in 2013, we ushered in a new era of low-cost air travel," said Trevor Stedke, Vice President of Technical Services at Southwest. "We would not be here without the support of our Tennessee Customers and Employees. We're proud to honor them with this dedicated aircraft."
Tennessee One joins 10 other Boeing 737s in the Southwest fleet honoring states with special liveries: Arizona One (N383SW), California One (N609SW), Colorado One (N230WN), Florida One (N945WN), Illinois One (N918WN), Lone Star One (Texas, N352SW), Maryland One (N214WN), Missouri One (N280WN), Nevada One (N727SW), and New Mexico One (N781WN).
Photos:
Christopher joined AirlineGeeks.com in 2014 before spending a year with the marketing department at the Newport News/Williamsburg International Airport, and he is excited to be writing again. He is currently a student at Fordham University pursuing a degree in Marketing and hopes to join a major airline after graduation and help improve the passenger experience.

Christopher has a longstanding passion for aviation, fueled by constant travel as part of a military family. In his free time, you can find Christopher plane spotting, collecting airline memorabilia, or stargazing, and he maintains an extensive model aircraft collection. He also enjoys music and plays the saxophone and sings in the University's choir when not preoccupied with aviation.
Latest posts by Christopher Dollesin (see all)