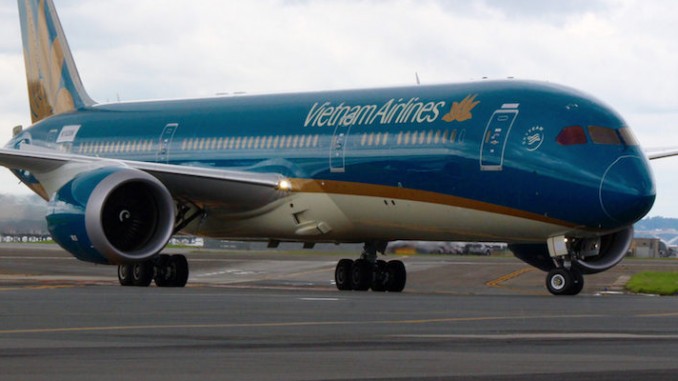 Vietnam Airlines, a member of the SkyTeam Alliance, announced that it will begin flying its Boeing 787-9 Dreamliner aircraft to Australia later this year.
The airline currently operates a Boeing 777-200ER between Ho Chi Minh and Sydney, as well as an Airbus A330-200 between Ho Chi Minh and Melbourne. Both flights will be replaced by the 787-9 on October 29.
The Schedule
| | | |
| --- | --- | --- |
| Flight # | Depart | Arrive |
| VN773 | Ho Chi Minh 21:50 | Sydney 09:50 (+1) |
| VN772 | Sydney 11:50 | Ho Chi Minh 16:15 |
| VN781 | Ho Chi Minh 21:10 | Melbourne 09:25 (+1) |
| VN780 | Melbourne 11:25 | Ho Chi Minh 15:40 |
Both 787 flights to Sydney and Melbourne are currently available for booking on the airline's website.
Vietnam Airlines' 787 aircraft are fitted with a Zodiac Cirrus Business class seat, which are very similar to that of competitors American Airlines and Cathay Pacific. The seats feature all-aisle access and fully-flat beds, and are known throughout the industry as the "reverse herringbone" style. The aircraft also feature five rows of premium economy class in a 2-3-2 layout configuration.
The airline currently has an order for 19 Boeing 787-9 Dreamliner aircraft, as well as 14 Airbus A350-900 XWB aircraft. Vietnam Airlines was the first airline in Asia to take delivery of both the 787 and A350 and currently operates the aircraft across Asia and Europe. The airline is also looking at starting service to the United States in the next couple of years with the 787-9 or A350.
Tyler has been an aviation enthusiast for as long as he can remember and is currently pursuing a Bachelor's degree in Aviation Administration with a minor in Social Media Marketing from Lewis University in Romeoville, IL. His preferred airline is United and his favorite aircraft is the Boeing 777 and 757. Tyler has his fourth-degree black belt in Taekwondo and is unlikely to be seen without Starbucks in his hand. He is also an avid plane spotter. Tyler always has a smile on his face and his eyes pointed skyward.
Latest posts by Tyler Tashji (see all)