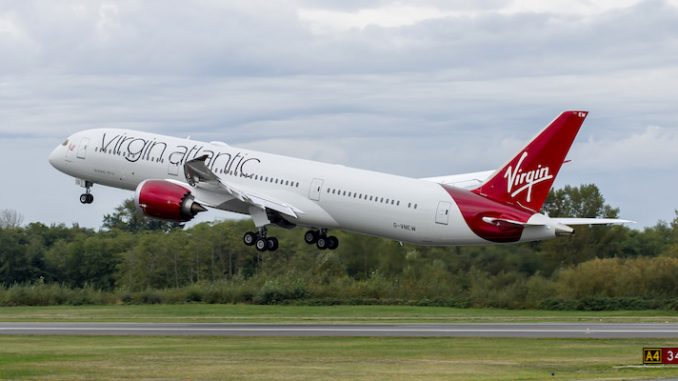 As of May 31, 2016, Delta announced that they, along with Virgin Atlantic, would update and enhance service between the US and the UK for their 2017 summer schedules in order to provide more travel options for passengers. The changes are set to be made effective between March and May of 2017.
On March 26, 2017, Delta will add an extra flight between Detroit and London Heathrow, and Virgin Atlantic's service will be discontinued. Also on that day, Virgin Atlantic will commence operations between Seattle and London Heathrow, replacing Delta's daily service on this route.Virgin Atlantic will operate this flight with their 787 Dreamliner.
Then, on May 25, 2017, Virgin Atlantic will add daily service between JFK and Manchester, replacing Delta's service, which will be restored in winter 2017. Also, Delta will take over Virgin Atlantic's second daily flight between Atlanta and London Heathrow, resulting in three daily flights on this route for Delta.
The next day, May 26, 2017, Delta will commence four time weekly seasonal service between Portland, Oregon and LHR, the only flight connecting the city with London.
"We are delighted to further optimize our joint services between the U.K. and the U.S," said  Erik Varwijk, Executive Vice President, Commercial, Virgin Atlantic. "Our most fuel efficient Boeing 787-9 aircraft will add additional capacity to the successful Seattle route, enabling more customers to enjoy the Virgin Atlantic experience on this brand new aircraft.  In Manchester, deploying our Airbus A330-300 aircraft on this route will allow us to further meet the growing demand from theManchester market, now offering a total of six direct flights to the U.S. after the recently announced new services to Bostonand San Francisco. The network changes highlight the strength and flexibility of our joint venture, allowing us to make smart decisions that ensure the right aircraft are on the right routes for our customers."
Dwight James, Delta's Senior Vice President, Trans-Atlantic stated, "Adding a brand new service toPortland while increasing the scale of Delta's reach across our Atlanta and Detroit hubs provides a comprehensive network of nonstop and connecting destinations for both Delta and Virgin customers. The flexibility to adjust our operations on routes between the U.K. and the U.S. is a solid reflection of the cohesive strategy we have across the trans-Atlantic. Since 2014, we have been building a partnership that is centered around the needs of our customers while providing network synergies for our airlines."
The joint summer schedule will result in 42 daily nonstop flights between the US and the UK, including popular destinations such as Los Angeles, San Francisco, Atlanta, London Gatwick, Manchester, and Edinburgh.
Ashley is currently a senior in high school and plans on pursuing a career in aviation or journalism. Her favorite airplanes include the Boeing 777, 737MAX, and Airbus A350. She enjoys taking flights on various airlines to different airports and planespotting at her local airports.
Latest posts by Ashley Magoon (see all)