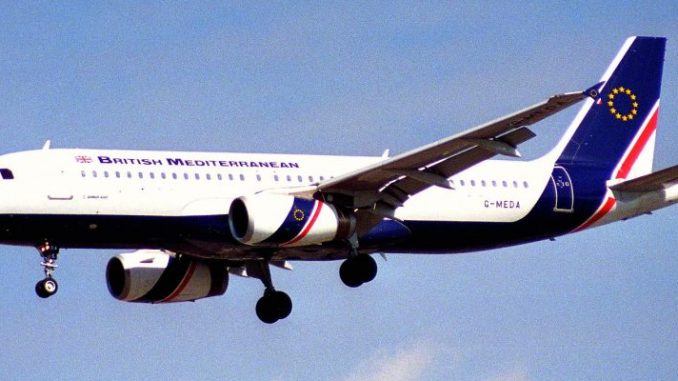 In late October 1994, a group of private investors founded British Mediterranean Airways (BMED) to operate services from the British Isles to the Mediterranean. The airline operated an Airbus A320 on a route from London's Heathrow to Beirut, Lebanon. The airline quickly found success in their routes to leisure markets, and the next year, routes to Damascus and Amman were added.
In 1997, the airline entered into a franchise agreement with the UK's flag carrier, British Airways. The agreement saw British Airways withdraw their route to Beirut and saw all BMED flight be operated with a British Airways flight number. The aircraft were also painted in the British Airways livery and the cabins retrofitted to match the British Airways standard.The crew members uniforms also matched those of their British Airways counterparts. BMED also became an affiliate member of the Oneworld Alliance sponsored by British Airways. 
The deal with British Airways benefited British Mediterranean greatly, as they were able to take over British's unprofitable routes, which were better suited for BMED's lower cost of operation. As part of the agreement, BMED moved from Terminal 3 to Terminal 4 in order to better connect with the British Airways network. The agreement with BA also allowed BMED to open up their own routes and use British Airways resources such as marketing and their sales force.
In 2004, the airline announced they had carried 277,000 passengers on its 6 aircraft. The airline's fleet was made up entirely of the Airbus A320 and the Airbus A321. It was also at this time that airline announced they would be changing names from the longer British Mediterranean Airways to the shorter BMED. The new name also came with a logo change to help strengthen the airline's image. In 2007 it was revealed that the airline had been operating a "ghost flight," or a flight that was completely empty. In the UK railway industry similar ghost trains are common as they prevent train routes from being closed by parliament. BMED's ghost flight however was not sold or advertised. The airplanes took off six times per week and flew the short distance to Cardiff International Airport. This was done so that BMED didn't lose a valuable Heathrow slot, which are very difficult to come by. After the airline scrapped their flights to Uzbekistan, the airline wouldn't have met the requirement for keeping their slots at Heathrow.
The mid 2000s saw the airline experience a period of extensive losses. With difficult news continuing to pour in, investors decided to sell off the airline. In February of 2007 a deal was made with British Airways competitor, BMI, to sell the airline for £30 million. The deal worked well for BMI as BMED focused on medium to long haul routes that BMED specialized in. BMED's agreement with British Airways ended on October 27, 2007 when the BMI takeover was completed. Following the news, all aircraft were gradually repainted into the BMI livery and received BMI flight codes. This marked the end of BMED officially and the end of a unique airline operation.

Daniel has always had aviation in his life; from flying to the United States when he was 2, to flying to Tampa and Las Vegas for family vacations. Aviation has always had a strong influence in his life. Daniel grew up in Indianapolis, Indiana and moved to his current South Florida home in 2010. He favors Ft. Lauderdale-Hollywood International Airport but also fly's out of Miami International Airport when traveling back to his native England. He is currently attending Nova Southeastern University in Davie, Florida and is on track to graduate in 2018 with a degree in Human Factors in Aviation and his pilot's license. When he graduates he hopes to become a commercial pilot.

Latest posts by Daniel Morley (see all)