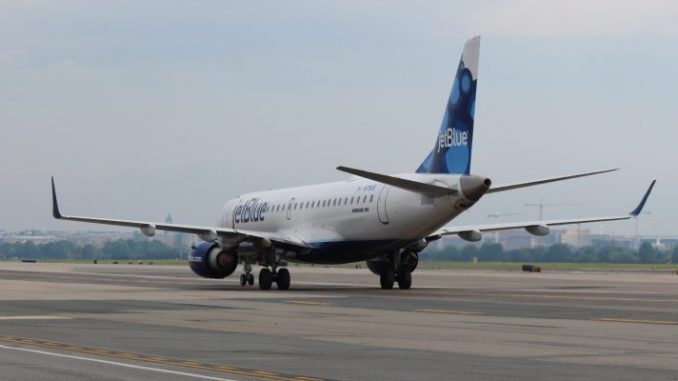 Last week, jetBlue sent a letter of interest to Atlanta Hartsfield International Airport to restart service to the world's busiest airport. The airline plans to resume service to Atlanta in September 2017. The airline pulled out of Atlanta in 2003 citing intense competition between jetBlue, Delta, and AirTran.
The letter sent to the Atlanta Airport states jetBlue plans to launch 16 flights a day based on if the airline can acquire two gates for use at the airport. The destinations were not mentioned in the letter. However, jetBlue's Vice President of Network Planning, Dave Clark, stated that fares between Atlanta and New York were 25% higher than jetBlue fares between New York and Ft. Lauderdale. This makes New York's JFK, a jetBlue hub, a likely destination.
The airline had previously served Atlanta in 2003, with service to their west coast focus city in Long Beach. However the service ended six months later. At that time, AirTran, the then second largest carrier in Atlanta, started service to the west coast. This combined with existing west coast service from Delta, meant that jetBlue became quickly priced out of the market.
With AirTran being taken over by Southwest and Delta changing its business strategy, jetBlue sees an opportunity to reenter the Atlanta market. jetBlue hopes that by adding service to Atlanta the carrier can lower the fares in the market, which has recently been dominated by Delta.
Although nothing is set in stone yet for jetBlue, the airline is still in negotiation with the airport; the plans look promising. With jetBlue growing tremendously since 2003, the airline is in a better position to compete in the market, and to maintain service.

Daniel has always had aviation in his life; from flying to the United States when he was 2, to flying to Tampa and Las Vegas for family vacations. Aviation has always had a strong influence in his life. Daniel grew up in Indianapolis, Indiana and moved to his current South Florida home in 2010. He favors Ft. Lauderdale-Hollywood International Airport but also fly's out of Miami International Airport when traveling back to his native England. He is currently attending Nova Southeastern University in Davie, Florida and is on track to graduate in 2018 with a degree in Human Factors in Aviation and his pilot's license. When he graduates he hopes to become a commercial pilot.

Latest posts by Daniel Morley (see all)