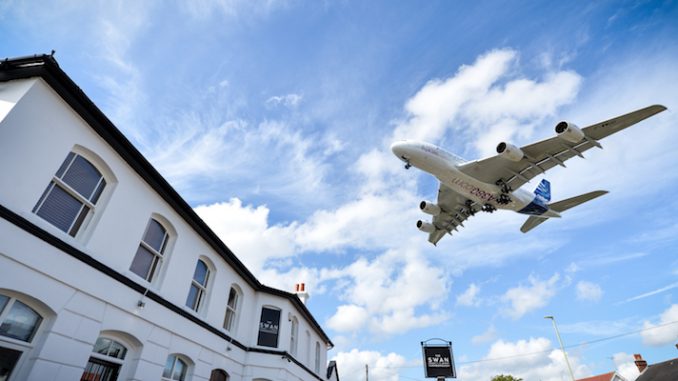 The opening day of Farnborough International saw the proceedings ending slightly earlier than planned. Due to an outburst of rain which caused a minor flood, the show planners had to cut the power of the event hall buildings and eventually cancel the rest of the day due to safety concerns. Nevertheless, Tuesday morning began as normal.
TUI Improves Orders for MAXs and 787s
TUI, a group of airlines comprising of Jetairfly, Thomson Airways, TUIfly, TUIfly Nordic, Corsair, and TUI Airlines, finalised an order for 10 Boeing 737 MAX 8s and one 787-9 Dreamliner. The group, which is headquartered in Hannover, Germany,  now expects three 787-9s and 70 MAX jets. Thomson Airways already has nine 787-8s and one 787-9 in service.
Germania Orders 25 A320neos
Germania has placed a firm order with Airbus for 25 A320neos with an option to take an additional 15. Powered by Pratt & Whitney PW1100G engines, the new aircraft will join the airline's fleet already compromising of 10 A319s and five A321s which serve destinations in Europe, North Africa and the Middle East. The airline currently owns 10 Boeing 737-700s which are due to be phased out by 2020.
AirAsia Purchases 100 Airbus A321neos
AirAsia Chief Executive Officer Tony Fernandez and Airbus CEO Fabric Bregier together announced an agreement for 100 A321neos, meaning the number of A320 family aircraft ordered by the airline will increase to 575; 170 have already been delivered.
Bragger said, " This is another strong endorsement of the largest member of our single aisle family, which is now the clear market leader in the 200 plus seat category. We look forward to see A321neo flying in AirAsia colours and contributing to the airline's continued success as one of the world's leading low cost carriers."
The aircraft will be configured with the high density 240 seat option.
WOW Air Places First Direct Order to Airbus
Icelandic budget airline WOW Air has placed its first order to Airbus, ordering four A321s. The airframes will be configured with 200 seats, with the first two to be delivered next year and the other pair in 2018. By the end of the year the airline will have already 12 aircraft, including the A320and A330.
The airline is already committed to leasing A320neo aircraft from Air Lease which will aid the company's routes out of Reykjavik to destinations in Europe and North America.
Porter Airlines Orders Three Bombardier Dash 8 Q400s
Bombardier and Porter Airlines have signed a firm purchase agreement for three Q400 turboprops, totaling $93 million on current list prices. With the first two deliveries scheduled this December, the deal will see Porter's Q400 aircraft fleet rise to 29 aircraft.
"The Toronto-built Bombardier Q400 aircraft is everything you could ask for in a turboprop," said Robert Deluce, President and Chief Executive Officer of Porter Airlines. "It is an important component of our award-winning customer experience. The combination of operating efficiency, speed, very low noise levels inside and out, and excellent passenger appeal are unbeatable."
Airbus Aims for 12 A380 Deliveries Annually
With only 126 left to deliver from the 319 total order list for the A380, Airbus is cutting its target delivery of the double-decker aircraft. Seen as a "prudent" and "proactive" decision by Airbus CEO Fabrice Bregier, the manufacturer will keep its options open for the future of the super jet with Bregier saying they will continue to invest in the jet as "the A380 is here to stay."
James was surrounded by aviation from an early age. At the age of 13 he enrolled in the RAF Air Cadets, a youth organization for aspiring young adults who wished to enter the armed forces or aerospace industry. At the same time, he started flying lessons in a C152 leading to his PPL. He left the Air Cadets to undergo his Commercial Pilot Training with a training school on a full time basis. He now flies the Airbus A319/320 series across Europe for one of the largest airlines in the area.
Latest posts by James Dinsdale (see all)