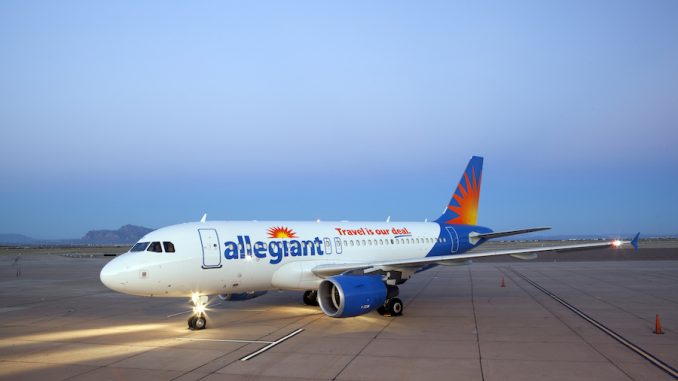 Following an announcement to order 12 Airbus A320ceo aircraft, Las Vegas based Allegiant Air allowed its nearly 3,000 employees to vote on a refreshed livery for their new airplanes. The aircraft order, along with the new paint scheme, is part of a modernization effort for the airline. Allegiant is currently phasing out its aging MD-80s, transitioning to an all-Airbus fleet by 2019.
In order to decide on the livery for the new Airbus aircraft, more than 2,000 Allegiant employees took part in a vote. The vote consisted of two concept designs, displayed on the new airplanes.
Tell us which new livery you want to win by tagging us @Allegiant and pick #TeamA or #TeamB! pic.twitter.com/uri7dvmLx3

— Allegiant (@Allegiant) July 29, 2016
Due to the company's focus on giving leisure travelers access to sunny destinations throughout the year, Allegiant highlighted the orange and yellow accents within the paint scheme, while complementing the tail.
The design itself consists of color on the fuselage along with the Sharklets. It is an evolution of the current livery and will continue to grow alongside Allegiant's modernizations efforts.
Allegiant said the new livery will be incorporated into the fleet soon, however it is unclear if they will be repainting their current fleet in the near future.
Ryan is a young avgeek who enjoys all aspects of aviation. He has had experience in almost every field of aviation. From writing articles to actually flying, Ryan has done it all!

He has about two hours of flying "under his belt" and he has a collection of 40 plus airplane models, plus airline memorabilia, collectibles and hundreds of aviation photos. Now, Ryan mainly writes articles and collects avgeek stuff. He's had his head in the clouds for more than 16 years and will always look up when he hears a jet roar. In addition to writing and editing for AirlineGeeks, he volunteers as a Travelers Aid at Reagan National Airport in Washington, D.C.
Latest posts by Ryan Ewing (see all)