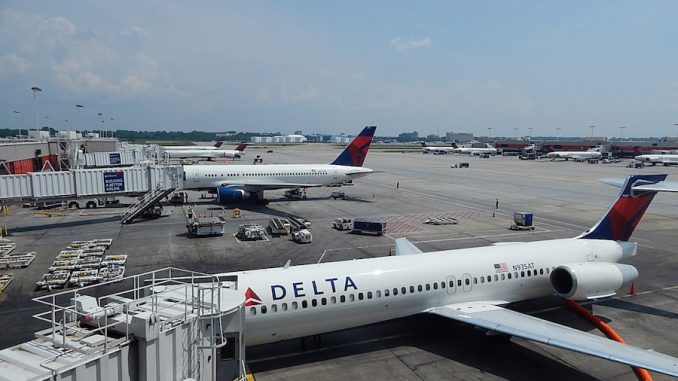 At approximately 5:05 am ET, Delta announced that their system was undergoing a power outage. The source of the outage occurred in Atlanta at approximately 2:30 am ET.
Initially, the outage only delayed flights awaiting departure. Aircraft already in the air continued to operator as normal.
Due to a computer outage, flights awaiting departure are currently delayed. Flights enroute are operating normally.

— Delta News Hub (@DeltaNewsHub) August 8, 2016
The outage has affected computer systems and Delta operations worldwide. Delays and cancellations are expected to last through the day. Flights that originated prior to the initial outage are still operating as normal. In addition, Delta's app, website, and flight monitors are displaying inaccurate information in various situations. Delta has stated that teams are on site working to resolve the issue.
As of 8:40 am ET, the ground stop on all Delta flights was lifted but delays are continuing. Delta is telling passengers to expect delays if they are headed to the airport. The power outage has cancelled approximately 300 flights.
Additionally, Delta has issued a travel waiver for customers traveling through August 12th.
Update 8/9/16: After cancelling approximately 1,000 flights on Monday, Delta's global operations are slowly recovering. As of Tuesday morning, the airline said they have cancelled more than 300 flights to help get crews and aircraft back into place for customers. Delays and cancellations are expected to continue through the day.
Delta has extended their travel waiver following the outage. Additionally, unaccompanied minors that have not already started their travels will not be accepted until Wednesday.
Delta CEO Ed Bastian issued the following video message:

Ryan is a young avgeek who enjoys all aspects of aviation. He has had experience in almost every field of aviation. From writing articles to actually flying, Ryan has done it all!

He has about two hours of flying "under his belt" and he has a collection of 40 plus airplane models, plus airline memorabilia, collectibles and hundreds of aviation photos. Now, Ryan mainly writes articles and collects avgeek stuff. He's had his head in the clouds for more than 16 years and will always look up when he hears a jet roar. In addition to writing and editing for AirlineGeeks, he volunteers as a Travelers Aid at Reagan National Airport in Washington, D.C.
Latest posts by Ryan Ewing (see all)