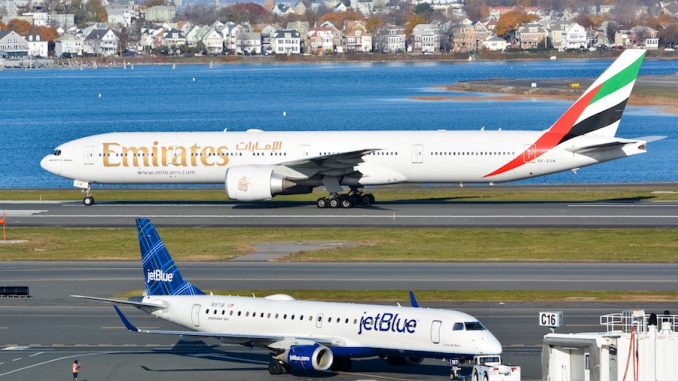 Since the creation of the first airport in 1909 by Wilbur Wright, cities in the United States have come together to create one of the most expansive airport systems in the world. Over the next few months, our writers have taken an in-depth look to see what airports each state has to offer, what its history entails, and what changes we can expect in the future that will continue to shape the airline industry.
One of the original thirteen colonies and now the most populous state in New England, Massachusetts, houses the country's 18th busiest airport and a demanding entry point from Europe.  Once a hub for travelers via ships from Europe, and now an important aviation gateway.
MAJOR AIRPORT
Logan International Airport – Boston, Massachusetts
Named after General Edward Logan, this airport serviced over 33.5 million passengers last year making it the busiest in the New England region. The largest airline at Logan is JetBlue which it serves as a focus city and a gateway for Delta and other larger carriers. From the first scheduled flight in 1923 with service from New York City to its first jumbo jet in 1970 with Pan Am service to London, BOS has been a major player in the eastern aviation market.
Logan has six runways leading to multiple global destinations. The three busiest international routes out of Boston are London, Paris, and Dublin.
OTHER AIRPORTS
Barnstable Municipal Airport – Hyannis, Massachusetts
Primarily serving Cape Cod, Barnstable is an important airport for the state. This publicly owned 639 acres with two runways is an air hub for the very popular Nantucket and Martha's Vineyard islands.
Nantucket Memorial Airport – Nantucket, Massachusetts
This island airfield actually serves as another very prominent airport in the region. With seasonal flights from New York, DC, and Newark the regional operators do not leave this airport falling behind.

Shane started as an airline geek on the first day that his mother brought him to work with her as a kid at Dulles Airport. Visiting the ground control tower, driving out on the ramp, and even sitting in the engines, he knew this was something awesome. After learning all the aircraft types and collecting countless model planes, he was addicted. After college, Shane worked at the FAA command center and gained in-depth knowledge of the industry he already loved. For over 5 years, he has worked mainly in Information Technology with the Department of Defense and various military organizations, however continues to grow his passion for aviation and the world of flying. Still today he can't go to the airport without staring out towards the runway or look up to the sounds of something overhead.

Latest posts by Shane Piper (see all)