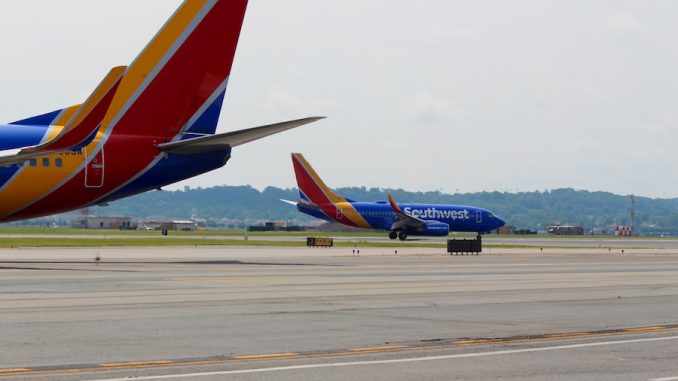 According to a recent study released by FareCompare.com, international flyers traveling to the United States do not receive long term benefits from the "Southwest Effect."
Well-known to domestic travelers, the Southwest Effect describes a drop in average airfare when Southwest enters a market. A previous study by FareCompare supported the Southwest Effect in domestic markets, but this latest study casts doubt on Southwest's ability to influence international fares.
For the study, FareCompare compiled almost 1.5 million airfare searches between cites in the United States and the Caribbean, Central America, and Mexico. The fares were collected over the span of 17 months, beginning in January 2015 when Southwest launched new service to Central America. The site compared 10 different airlines, including Southwest, Virgin America, JetBlue, and Spirit. The site searched roundtrip fares only with between 14 and 34 days advance purchase.
At the start of the study, average fares hovered around $605 roundtrip. As Southwest entered the market, fares dropped over the next 9 months to $533, compounded by new service from JetBlue and Spirit into the region. However, prices increased through Winter and into Spring, reaching an average of $603 in June 2016.
It remains to be seen if summer travel will push fares back down; however, Rick Seaney, CEO of FareCompare, commented, "Fares to the U.S. from these markets have steadily increased in the first half of 2016 and will likely continue to do so in the near future."
Luckily for travelers from the US, the Southwest Effect remains long term, according to FareCompare. Based on an earlier study, fares in new Southwest markets from the United States to international destinations dropped 25% on average, and have stayed low.
"The news remains good for U.S. travelers looking for deals on getaways to places like Jamaica, Belize, Costa Rica and Mexico," Seaney said.
Christopher joined AirlineGeeks.com in 2014 before spending a year with the marketing department at the Newport News/Williamsburg International Airport, and he is excited to be writing again. He is currently a student at Fordham University pursuing a degree in Marketing and hopes to join a major airline after graduation and help improve the passenger experience.

Christopher has a longstanding passion for aviation, fueled by constant travel as part of a military family. In his free time, you can find Christopher plane spotting, collecting airline memorabilia, or stargazing, and he maintains an extensive model aircraft collection. He also enjoys music and plays the saxophone and sings in the University's choir when not preoccupied with aviation.
Latest posts by Christopher Dollesin (see all)