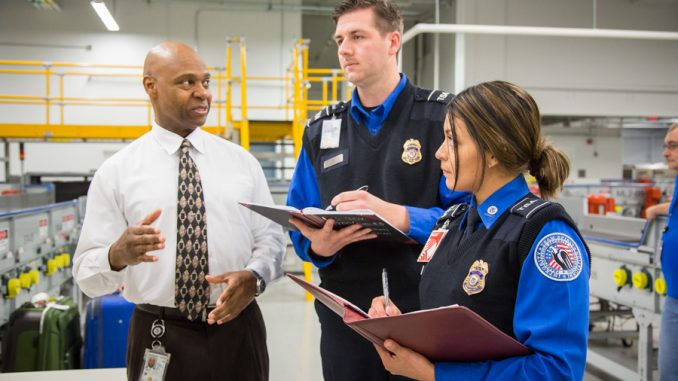 Located at Reagan National Airport is the Transportation Security Administration's (TSA) testing facility, also known as the TSA Systems Integration Facility (TSIF). The facility itself is a former post office building when shipping and mail was common at Reagan National. In 2009, the TSA bought the facility and began using it for testing.
The newly renovated facility is 128,000-square feet in size, and is used to test new technologies that the TSA uses at airports across the country. Upon entering the building, people are greeted with artifacts from the September 11th attacks, including a piece from Flight 77. The goal with these is to remind people of what the TSA is there to prevent.
TSIF features technology already in use, along with tools that the TSA plans to utilize in the future. Additionally, the TSA keeps a "museum" of screening tools that were once used throughout the facility.
There are three parts to the building: an explosives testing lab, tools used at checkpoints, and a full scale bag room. The explosives lab features liquid testing devices along with wands to test passenger's hands and bags. Additionally, the TSA has portable tools for train stations and special events.
From body scanners to x-ray machines, TSIF tests and calibrates them all. In terms of body scanners, the TSA is beginning to utilize a smaller version of the standard model currently in use, making it clear that it has the same capabilities as the larger one. The facility is also testing a new x-ray system, currently in use at Atlanta International (ATL), which is funded by Delta. The machine isn't just a standard x-ray belt; it utilizes specifically sized bins that are larger than the ones currently in use. After the bin goes through the x-ray, it is returned to the starting point through a conveyor belt underneath the x-ray.
Towards the bottom of TSIF is a full scale bag room, featuring different types of RFID readers, belts, and large scale x-ray machines. The room is bustling with test bags constantly moving throughout the system.
Within TSIF, there is a room where the TSA stores items that can be used for testing, such as suitcases (including Bluetooth and "bed bug" rollerboards), various articles of clothing, a test dummy for the body scanner, and various trinkets that can be utilized for testing. The TSA stated that this was all purchased specially for the facility.
TSIF is a great example of how the TSA is actively working on new and improved ways to keep the skies above America safe.
*Click to enlarge the photos
Ryan is a young avgeek who enjoys all aspects of aviation. He has had experience in almost every field of aviation. From writing articles to actually flying, Ryan has done it all!

He has about two hours of flying "under his belt" and he has a collection of 40 plus airplane models, plus airline memorabilia, collectibles and hundreds of aviation photos. Now, Ryan mainly writes articles and collects avgeek stuff. He's had his head in the clouds for more than 16 years and will always look up when he hears a jet roar. In addition to writing and editing for AirlineGeeks, he volunteers as a Travelers Aid at Reagan National Airport in Washington, D.C.
Latest posts by Ryan Ewing (see all)