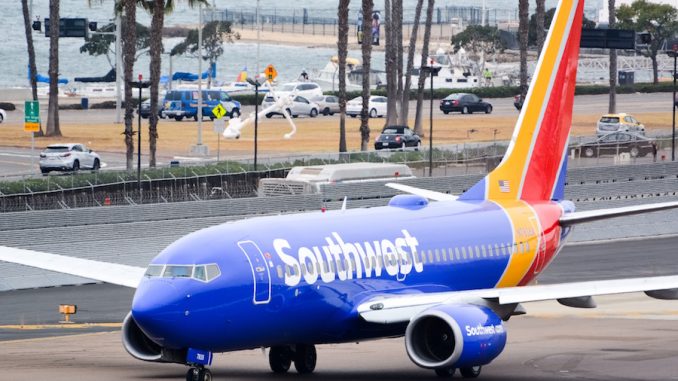 Southwest flight 3472 from New Orleans to Orlando diverted to Pensacola, Florida after an incident involving the number two engine.
The aircraft involved was N766SW, a 16 year old 737-7H4 with CFM56 engines. There were 99 passengers and 5 crew members onboard, who safely deplaned in Pensacola.
The engine appears to have significant damage, losing a cowling and exposing part of the main rotor. However, the incident appears to extend further than just the engine with the fuselage and horizontal stabilizer seeing slight damage.
A great job today by our professional @SouthwestAir pilots! The best safety device is always a well-trained pilot. pic.twitter.com/B4GpLyC6gA

— SWA Pilots' Assn. (@swapapilots) August 27, 2016
Southwest 737 damage not limited to engine. Fuselage and wing root too. https://t.co/b4FRjb05ZH #WN3472 pic.twitter.com/dVmAr0HySM

— Jon Ostrower (@jonostrower) August 27, 2016

Southwest has put the aircraft out of service and is working with the NTSB to investigate the incident.  The NTSB has stated that they are "investigating [an] incident involving a Southwest Airline fight that experienced uncontained engine failure, diverted to Pensacola Int'l."
Ryan is a young avgeek who enjoys all aspects of aviation. He has had experience in almost every field of aviation. From writing articles to actually flying, Ryan has done it all!

He has about two hours of flying "under his belt" and he has a collection of 40 plus airplane models, plus airline memorabilia, collectibles and hundreds of aviation photos. Now, Ryan mainly writes articles and collects avgeek stuff. He's had his head in the clouds for more than 16 years and will always look up when he hears a jet roar. In addition to writing and editing for AirlineGeeks, he volunteers as a Travelers Aid at Reagan National Airport in Washington, D.C.
Latest posts by Ryan Ewing (see all)