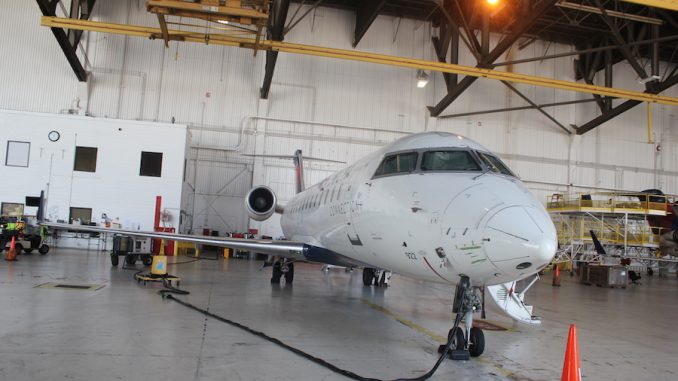 Serving 182 airports in six countries, ExpressJet is one of the world's largest regional airlines. The airline currently operates a fleet of 292 Bombardier and Embraer aircraft for American, United, and Delta.
ExpressJet has crew and maintenance bases scattered throughout the United States. Their largest is in Atlanta, Georgia, which is also their corporate headquarters. Additionally, the company has crew domiciles in Atlanta (ATL), Chicago (ORD), Cleveland (CLE), Dallas (DFW), Detroit (DTW), Houston (IAH), and Newark (EWR). Their maintenance bases are located in Atlanta (ATL), Baton Rouge, La. (BTR), Chicago (ORD), Cleveland (CLE), Dallas (DFW), Detroit (DTW, Houston (IAH), Knoxville, Tenn. (TYS), Newark, N.J. (EWR), Richmond, Va. (RIC), and Shreveport, La. (SHV).
The company's Atlanta headquarters is extensive featuring maintenance, crew training, and the airline's operations center. The facility is adjacent to Delta's headquarters.
With its 8,500 employees, the airline sees an average of 1,392 daily scheduled departures and carried 26 million passengers in 2015. ExpressJet operates a fleet of 59 Bombardier CRJ200s, 37 Bombardier CRJ700s, 28 Bombardier CRJ900s, 163 Embraer ERJ145s, and 5 Embraer ERJ135s.
We had the opportunity to visit the airline's Atlanta headquarters. Check out the photos below:
*Photos by Ben Bearup
Ryan is a young avgeek who enjoys all aspects of aviation. He has had experience in almost every field of aviation. From writing articles to actually flying, Ryan has done it all!

He has about two hours of flying "under his belt" and he has a collection of 40 plus airplane models, plus airline memorabilia, collectibles and hundreds of aviation photos. Now, Ryan mainly writes articles and collects avgeek stuff. He's had his head in the clouds for more than 16 years and will always look up when he hears a jet roar. In addition to writing and editing for AirlineGeeks, he volunteers as a Travelers Aid at Reagan National Airport in Washington, D.C.
Latest posts by Ryan Ewing (see all)