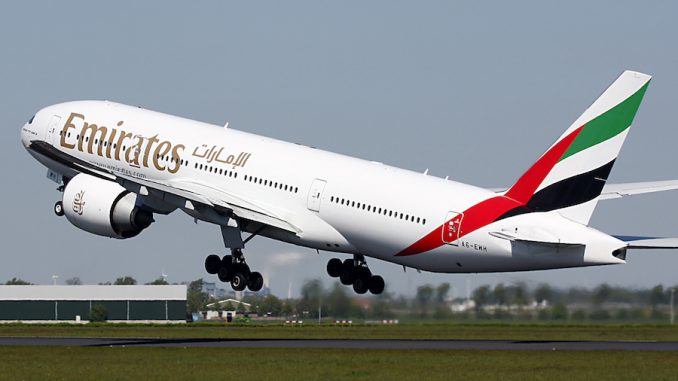 On October 11, 2016, Emirates Airline, the carrier of Dubai, announced a new route between their hub in Dubai and Ft. Lauderdale, Florida. The route marks the airline's 11th route to the United States and their second route to the state of Florida. Flights will begin on December 15th, and will be operated by the Boeing 777-200LR.
The route is the second between South Florida and the Middle East, after Qatar Airways' service to Doha. The flight will depart Dubai at 3:00AM and arrive in Ft. Lauderdale at 10:25AM. The return departs Ft. Lauderdale at 8:20PM and arrive back in Dubai at 7:40PM the next day. The decision to use Ft. Lauderdale over the much larger Miami International is a shock to some, however the move makes sense as Emirates and JetBlue are codeshare partners. The flight allows Emirates access to JetBlue's large Caribbean and South American network from their hub in Ft. Lauderdale.
While the flight arrives too late for JetBlue's morning bank of flights, there are still many connections available for passengers. Presently Ft. Lauderdale is rebuilding their international terminal. Currently half done, there's only one gate available for international widebody arrivals. Currently during the early morning, this gate is occupied by Azul's Airbus A330 from Brazil. The airport's immigration area is also being upgraded to accommodate more passengers.
Florida has worked for Emirates in the past. Their service to Orlando was upgraded shortly after launch from a 777-200LR to a 777-300ER. Load factors average around 80% on the route. In addition to connections to JetBlue's extensive network, service to Ft. Lauderdale provides access to the large Port Everglades cruise port, the second busiest cruise ship port in the world. Premium passengers can be drawn to the convenience of the Palm Beaches, where many wealthy individual vacation and do business.
While the route is expected to be successful, expansion on the route is limited. The short runways and hot weather in Ft. Lauderdale will make upgauging to a larger aircraft difficult without weight restrictions on the flight back to Dubai. 

Daniel has always had aviation in his life; from flying to the United States when he was 2, to flying to Tampa and Las Vegas for family vacations. Aviation has always had a strong influence in his life. Daniel grew up in Indianapolis, Indiana and moved to his current South Florida home in 2010. He favors Ft. Lauderdale-Hollywood International Airport but also fly's out of Miami International Airport when traveling back to his native England. He is currently attending Nova Southeastern University in Davie, Florida and is on track to graduate in 2018 with a degree in Human Factors in Aviation and his pilot's license. When he graduates he hopes to become a commercial pilot.

Latest posts by Daniel Morley (see all)