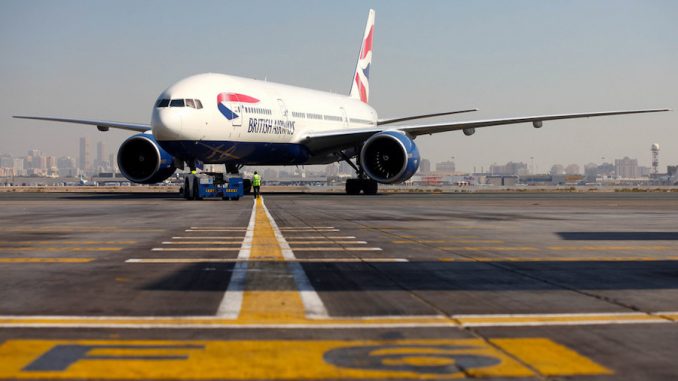 British Airways today announced new service between London's Gatwick Airport and Ft. Lauderdale-Hollywood International Airport. The service will be operated three-times a week, with a fourth flight added during the summer season. The route will be operated by a Boeing 777-200 with 275 seats. Service will begin on July 6th, 2017 and is currently on sale.
The route will become the airline's fourth city in Florida and third city in which they serve Gatwick. This will compete with Norwegian who offers weekly service between Gatwick and Ft. Lauderdale. However, unlike Norwegian, passengers on British Airways will receive complimentary meals as well as baggage included in the fare. While the route may appear odd, as British Airways already serves Miami twice daily, which is just 30 miles to the south, Ft. Lauderdale has the benefit of being located next to Port Everglades, the third busiest cruise port in the world, as well as attracting customers from the Palm Beaches who would prefer the shorter drive to Ft. Lauderdale than Miami.
Mark Gale, the CEO of the Broward County Aviation Department, had this to say about the new route, "Broward County welcomes one of the world's premier airlines with non-stop service to London. British Airways will bring Fort Lauderdale-Hollywood International Airport a new option for travel to Europe and beyond with a tradition of outstanding service and a variety of travel amenities."
The news comes at a time of international growth for Ft. Lauderdale. Emirates recently announced daily service from their hub in Dubai, beginning in December. Norwegian has also announced new service to Barcelona, and service to Paris began in August. With a new international terminal currently scheduled for completion in mid-2017, Ft. Lauderdale looks poised for more international expansion in the future as airlines seek new markets and a low cost option for South Florida.

Daniel has always had aviation in his life; from flying to the United States when he was 2, to flying to Tampa and Las Vegas for family vacations. Aviation has always had a strong influence in his life. Daniel grew up in Indianapolis, Indiana and moved to his current South Florida home in 2010. He favors Ft. Lauderdale-Hollywood International Airport but also fly's out of Miami International Airport when traveling back to his native England. He is currently attending Nova Southeastern University in Davie, Florida and is on track to graduate in 2018 with a degree in Human Factors in Aviation and his pilot's license. When he graduates he hopes to become a commercial pilot.

Latest posts by Daniel Morley (see all)