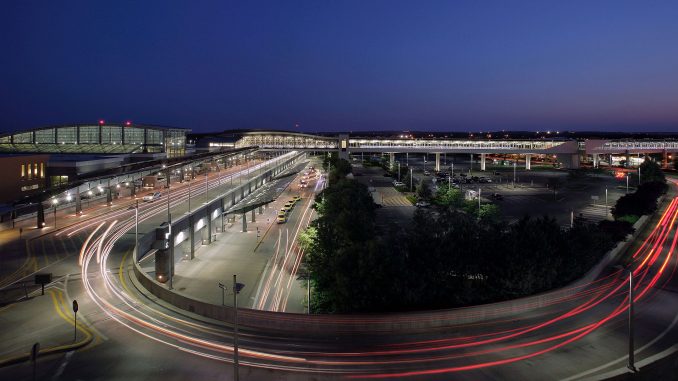 These bordering states have a huge history while being one of the smaller states. Connecticut is the 3rd smallest while Rhode Island is the smallest state in the whole union. While these areas do not house large direct connections to the world, they are popular destinations for many in the region. Connecticut was the 5th State to be admitted into the Union of the United States and Rhode Island was the 14th. 
Connecticut
Bradley International Airport – Hartford County, Connecticut
Bradley International Airport is Connecticut's busiest airports hosting over 350 flights per day. It is the second-busiest airport in New England after Boston Logan International Airport. The airport was branded as the 53rd busiest airport in the United States in 2014 after averaging over 90,000 operations within a single year. Bradley is also a dual-use military facility for the 103d Airlift Wing of the Connecticut Air National Guard. The airport has three Asphalt runways (labelled 6/24 at 9,510 feet, 15/33 at 6,847 feet & 1/19 at 4,268 feet). The airport has 56 aircraft based at the field and carried over 5.9 million passengers in 2015 alone.
Contributing to the passenger numbers are Southwest Airlines, Delta, JetBlue and American Airlines, who are the four largest carriers at the airport featuring market share value of 28%, 19%, 15% and 14%. Aer Lingus & Air Canada are the only carriers that are not American and offer services to Dublin, Montréal and Toronto-Pearson. Cargo services are offered by the oligopoly featuring DHL, FedEx and UPS. The most popular destination out of the airport is to Atlanta from Delta Airlines who carry over 300,000 passengers per year to that airport from Bradley alone.
Tweed New Haven Airport – New Haven County, Connecticut
Featuring two asphalt runways (labelled 2/20 at 5,600 feet & 14/32 at 3,626 feet), the airport hosts over 35,000 aircraft operations per year and has over 60 aircraft based at the field. The airport opened in November 1929 and launched commercial services with Li-Con Airways in 1933 before suspending services a year later. American Airlines then took over the services from Li-Con until the 1960's when Allegheny Airlines took over services. By the 1970s and the 1980s, New Haven Airways was established and operated flights between New York's JFK, LaGuardia, Philadelphia, Baltimore & Washington's National Airports using Twin Otters, Embraer EMB-110s and Shorts-360s. By the 1990s, the airport was seeing a decline in commercial operations as Business Express services were suspended in the 1990s after launching operations in the late 1980s.
In the present day, American Eagle & Shoreline Aviation are the only carriers to operate out of Tweed New Haven. Eagle offer services to Philadelphia, a long-standing route that has been in place since the era of US Airways Express before Eagle took over them during the AA-US Merger a few years ago. Shoreline Aviation offers services to New York-Skyport. On a military basis, the Connecticut Wing Civil Air Patrol 073rd Minuteman Squadron also operate out of the airport.
Danbury Municipal Airport – Fairfield County, Connecticut
Danbury Municipal Airport is a predominantly general aviati0n-based airport featuring two asphalt runways (labelled 8/26 at 4,422 and 17/35 at 3,135 feet) with only one commercial carrier operating out of the airfield on a seasonal basis. The airport averages 60,000 aircraft operations per year and has a staggering 264 aircraft based at the field. Out of the 264 aircraft based at the field, 210 are single engined, 48 multi-engined, 6 being Jet and only 1 being a helicopter. The Connecticut Wing Civil Air Patrol 399th Composite Squadron also have a hangar based at the field located next to Runway 35. 56% of all air traffic from Danbury is local general aviation.
Reliant Air is the only commercial carrier to operate out of Danbury on seasonal routes to Nantucket. The carrier has had an interesting history at Danbury. In September 2007, their hangar, which was located on the north-east side of the airport, burned down. It was rebuilt and the carrier still remains a vital link for Danbury's commercial aviation portfolio. Reliant Air takes advantage of the three instrument approaches that are at the field being either the Localiser Runway 8 approach, VOR or GPS-A approach or the GPS approach for Runway 8 as well.
Rhode Island
Theodore Francis Green State Airport – Kent County, Rhode Island
Theodore Francis Green State Airport (T.F. Green Airport) is an airport that serves the FAA's New England Region. Two other airports (Worcester Regional Airport and Manchester Regional Airport) are under this region according to the FAA System Plan. The airport has two asphalt runways (labelled 5/23 at 7,166 feet and 16/34 at 6,081 feet) and is home to 71 aircraft based at the airport. The field carries on average 3.5 million passengers per year from over 70,000 individual aircraft operations. The airport opened in September 1931 as a large public function. During 1942-1945, the airfield was taken over by the local Army Air Force for flight training. April 1957 saw the airport's commercial presence grow with 26-weekday departures per week from carriers such as Eastern Airlines, American, United & National Airlines.
Nowadays, there are more carriers than there were in 1957 operating from T.F Green. TACV operate flights to Praia with a Boeing B757-200 as well as Azores Airlines providing services to the airport from Ponta Delgada using their Airbus A330 aircraft. On the domestic route, the portfolio for the airport is dominated by American, Delta, JetBlue, Southwest & United. In terms of cargo operations, the airport is in a duopoly with FedEx and UPS on services to Fort Wayne, Memphis, Nantucket, Martha's Vineyard and Hartford. The most popular destination from the airport is Southwest's flights to Baltimore, Maryland with over 300,000 passengers travelling to and from the two airports.
Westerly State Airport – Washington County, Rhode Island
Westerly State Airport is one of six airports owned by the Rhode Island Airport Corporation. The field has two asphalt runways (labelled 7/25 at 4,010 feet & 14/32 at 3,960 feet) and operates over 19,000 aircraft per year. The field has 53 aircraft based at the field also. The airport opened as a strip in the 1920s and became the second state-owned airport in the U.S in the 1940s as it was needed for use during the Second World War. 68% of all air traffic counts as General Aviation at the field. 32% of the total traffic also counted as Air Taxi.
The only carrier that operates out of the field is local airline New England Airlines. They operate flights to and from Rhode Island using a fleet of seven aircraft consisting of three Britten-Norman BN-2 Islanders, three Piper PA-32-300 Cherokee Six aircraft and one Piper PA-28-180 Archer aircraft. Flights from Westerly State Airport under this carrier operates on routes to Block Island State Airport. The airline was founded in 1970 and only has two destinations being Block Island State Airport & Westerly State.
Block Island State Airport – Washington County, Rhode Island
Block Island is a tiny airport featuring one asphalt runway (labelled 10/28 at 2,502 feet) and home to two carriers, New England Airlines and Cape Air. These flights bring the field's commercial portfolio to Westerly State Airport, Portsmouth International at Pease & Westchester County. The airport has an average of 45 aircraft operations per day, amounting to over 16,000 operations per year, something very impressive for a tiny airfield. 61% of that traffic amounts to General Aviation. In 2010, they only had 4 aircraft based at the airport with 3 of them counting as single-engine aircraft due to the size of the runway.
The airfield was listed as a primary commercial service airport in 2008 due to the number of enplanements per year but in 2010, the airport's status was downgraded to a non-primary commercial service airport as the field's enplanements dropped below the 10,000 requirement in the National Plan of Integrated Airport Systems.
James is a passionate AvGeek who has been actively spotting for years. James has been an Aviation Enthusiast for 7 years and has a fond likening to Concorde! James hopes to grow in the aviation industry with journalism being his primary focus.
Latest posts by James Field (see all)