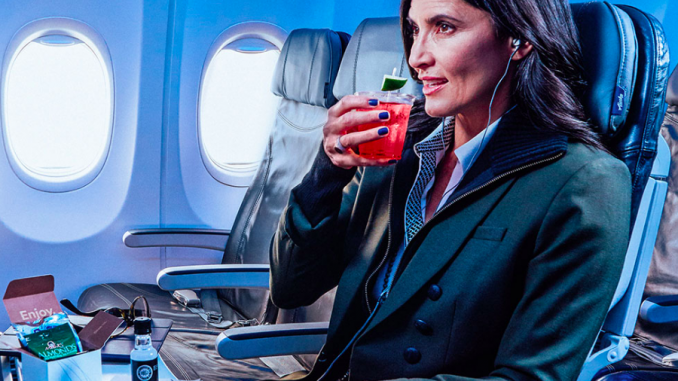 Alaska Airlines announced more details on their new Premium Class Thursday, which includes four inches of extra legroom, a free snack and drink, and early boarding. The product, akin to American's Main Cabin Extra or Delta's Comfort+, was announced in December 2015 at Delta's investor conference.
The airline said on their website those seated in Premium Class will be entitled to a free snack box, including "a rotating selection of items like chocolate, almonds, cranberries," as well as complimentary alcoholic beverages. Various meals will still be available for purchase on top of the usual complimentary beverage selection.
This bears a stark resemblance to Alaska's Seattle rival, Delta, who provide free alcoholic beverages to those seated in Comfort+.
The airline also announced the seats will have 4 in. of extra legroom. Regular economy class seats across Alaska's fleet have 31-32 inches of seat pitch. This is also within the range of other comparable products in the industry. For example, Comfort+ gives fliers 3 in. of extra legroom on domestic flights, while Main Cabin Extra has 4-6 in., depending on the aircraft type.
When Alaska originally announced Premium Class, the plan was to have the seats installed on 60 planes of unspecified types by the end of 2016, with the rest of the planned installations being completed by the end of 2017. Unfortunately, this did not come to fruition, and the airline released on their website the product will be rolled out across their 737-800 and 737-900 fleets in 2017. In addition, all Embraer 175 aircraft operated by SkyWest and Horizon will have Premium Class installed this coming year.
While the airline is not yet selling Premium Class, they announced how upgrades will work for members of their Mileage Plan frequent flier program. Their highest tiered members, MVP Gold 75Ks, will receive complimentary upgrades on all fares at the time of booking. Meanwhile, MVP Gold members will receive upgrades at the time of booking only on Y, Z, S, B, M, H, Q, L, V, N, and K fares, while regular MVP members will receive a free Premium Class seat if booking in only the Y, Z, S or B fare classes. For any fare classes not included, MVP Gold members will receive upgrades 72 hours before their flights, and MVP members 48 hours prior to takeoff.
In comparison, Delta allows all four of their elite levels to request complimentary upgrades to Comfort+. However, members with either of their top two status levels can receive their upgrade any time before their flight, pending availability. Members with their third and fourth tier status levels will receive their upgrades 72 and 24 hours before their flights, respectively, pending there is availability in the cabin. American, on the other hand, allows both Executive Platinum and Platinum (and soon Platinum Pro) members complimentary access to Main Cabin Extra at the time of booking, in addition to Alaska's MVP Gold 75K and MVP Gold customers. AAdvantage Gold members and Alaska MVP members can snag a free Main Cabin Extra seat 24 hours prior to their flight. Alaska will, however, not offer this benefit to American elites on their flights.

When he was just six months old, Parker took his first flight. From that point, he was destined to love aviation. His mom worked for Southwest Airlines much of his family have been frequent flyers on American Airlines for years, just as Parker is now. In 2015, Parker, inspired by aviation accounts on Instagram, decided to create an account of his own, and he hasn't stopped spotting since. On top of that, Parker has been writing for his school paper since his freshman year and has been writing and doing photography work for AirlineGeeks since August 2016.

Latest posts by Parker Davis (see all)