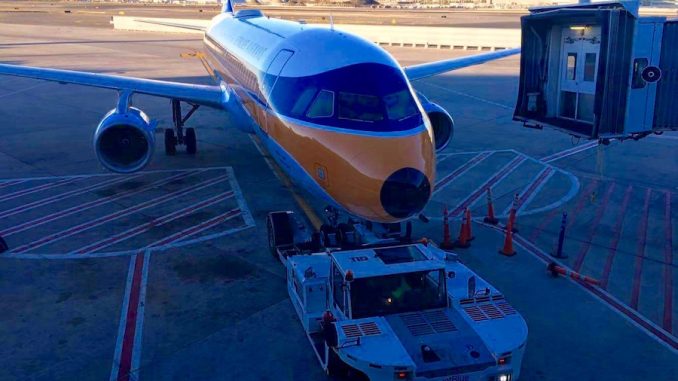 New York City-based JetBlue took delivery of their first Airbus A320 on December 4, 1999. Now, the carrier is joining the retro livery club with a new special 1960s-themed paint scheme.
Arriving into the airline's hub at New York-JFK Sunday evening, the 8-year-old aircraft (N763JB) features a retro-style livery and is named "What's Old is Blue Again." The airplane was painted in Peru, Indiana.
The livery is designed to recognize the unique and artistic jet age and is a way for JetBlue to highlight their innovative design. It also reverse engineers the airline's current brand with a pre-modern touch.
According to the airline, designers spent time at New York City's Lubalin Archive scouring through original advertisements, graphics, and fonts from the 1960s. The RetroJet features 1960 "speed stripes" along the fuselage and a font that would have mimicked airplanes of the 1960s era.
"The 1960s were rich with sleek but bold graphics and style – characteristics of today's JetBlue brand," said Jamie Perry, Vice President, Marketing at JetBlue. "With that in mind our team broke from our tradition of timeless designs and instead imagined a look to celebrate this iconic era of aviation and what JetBlue may have looked when it would have been introducing humanity to air travel."
The unique A320 debuted with JetBlue's relaunch of seasonal service from JFK to Palm Springs on Friday.
JetBlue commenced operations on February 11, 2000 with a flight from New York to Fort Lauderdale. The airline took delivery of its 10th Airbus A320 aircraft a few months later. Today, JetBlue operates 925 daily flights with a fleet of 223 Airbus A320 and Embraer 190 aircraft.
*All photos by Jose R. Ortiz
Ryan is a young avgeek who enjoys all aspects of aviation. He has had experience in almost every field of aviation. From writing articles to actually flying, Ryan has done it all!

He has about two hours of flying "under his belt" and he has a collection of 40 plus airplane models, plus airline memorabilia, collectibles and hundreds of aviation photos. Now, Ryan mainly writes articles and collects avgeek stuff. He's had his head in the clouds for more than 16 years and will always look up when he hears a jet roar. In addition to writing and editing for AirlineGeeks, he volunteers as a Travelers Aid at Reagan National Airport in Washington, D.C.
Latest posts by Ryan Ewing (see all)