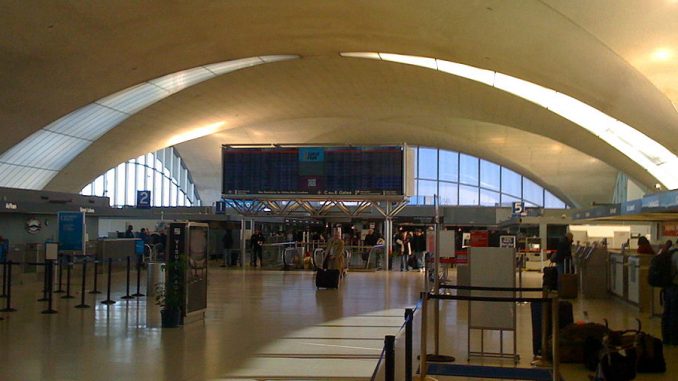 Since the creation of the first airport in 1909 by Wilbur Wright, cities in the United States have come together to create one of the most expansive airport systems in the world. Over the next few months, our writers have taken an in-depth look to see what airports each state has to offer, what its history entails, and what changes we can expect in the future that will continue to shape the airline industry.
After becoming a major trading post and eventually the "Gateway to the West" following the Louisiana Purchase, the Show-Me State has evolved to become a diverse economy, playing a major role in agriculture, beer manufacturing and aerospace development. The state has two major airports, and while both have seen their fair share of struggle over the past decade, they hope to continue recent growth trends.
MAJOR AIRPORTS
Kansas City International Airport – Kansas City, MO (MCI)
Consistently ranked one of the top airports in the country for passenger satisfaction, Kansas City International (MCI) was originally built after the Great Flood of 1951. The first runway opened in 1956, but quickly struggled to compete as nearby Kansas City Municipal Airport was in a more convenient downtown location. Finally in 1963, the FAA published a memo about Kansas City Municipal Airport being "one of the poorest major airports in the country for large jet aircraft," resulting in traffic slowly shifting to Kansas City International.
After a major bond measure passed in 1966, Kansas City International began its ambitious plan to build the "airport of the future", driven by hometown carrier TWA's quest to make the city their global hub. TWA insisted on making the airport follow a "drive to your gate" philosophy that would include all gates being within 75 feet of the nearby airport roadway. While the plan was ambitious, it quickly ran into numerous issues, with the biggest being that the layout of the airport was not able to accommodate the additional security screening without jeopardizing the already limited space for passengers to wait at their gates. Add to the equation the airline's massive Boeing 747 aircraft spilling passengers out to the terminal with nowhere to go, and the airport was left in a difficult position. TWA asked the terminal to be rebuilt to address many of the issues, but when Kansas City said no, it sprung to move its hub to St. Louis instead.
Since the de-hubbing by TWA, which followed with a drastic and immediate loss of many routes served, the airport has seen significant growth from Southwest Airlines, which is its largest carrier. Recent years have also seen the expansion of several ultra low-cost carriers, such as Spirit and Frontier, adding flights all across America from Kansas City International. Overall passenger count at the airport continues to grow, and the city hopes it will be able to capitalize on the opportunity.
Lambert-St. Louis International Airport – St. Louis, MO (STL)
As the largest and busiest airport in the state of Missouri, Lambert-St. Louis International (STL) serves over 12 million passengers each year. Originally founded as a balloon launching base, the airport began seeing some expansion in 1925 with the increasing presence of the Naval Air Reserve. Following World War II, the airport was in need of an overhaul. The city commissioned Minoru Yamasaki, a famous architect, to design a unique, four-domed style terminal, which would eventually become the inspiration for both New York – JFK and Paris – Charles de Gaulle airports.
Following fears in the 1970s of possibly relocating the major St. Louis airport over the state border to Illinois, Lambert International received $270 million to begin expansion. Soon after the airport got its big break, TWA had become frustrated with Kansas City's lack of willingness to adapt its airport design, and was looking for a new hub. The airline quickly jumped at the opportunity, and by 1982 held 20% of its domestic flights routed through St. Louis. This trend continued, as TWA began international flights to Frankfurt and London, as well as moved their headquarters to St. Louis. Unfortunately for the airport, this success would run out, as TWA's dire financial situation left it to be acquired by American Airlines in January of 2001.
Following the acquisition, as well as depressed demand after the terrorist attacks on September 11, 2001, the airport began to see a major decline in service. American slashed most flights to its non-hub locations, and what flights were left were transferred to be served by regional carriers and their smaller aircraft. While this transition caused a major downturn in traffic in St. Louis, it has since seen some success fueled by becoming a focus city for Southwest Airlines. The airport has also seen growth from Alaska Airlines on the West Coast and Frontier Airlines with its low-cost service to Florida.
OTHER AIRPORTS
Columbia Regional Airport – Columbia, MO (COU)
Close to the University of Missouri – Columbia and its 30,000+ students, Columbia Regional Airport has seen a wide range of service over the past several decades. Most routes were subsidized under Essential Air Service until 2010, when Delta began offering unsubsidized flights to its hub in Atlanta via its regional carriers. While Delta would pull out of the airport in 2013, Columbia did see some hope from new service offered by Frontier in 2012 to Orlando. Unfortunately this service would be cancelled in less than a year. The airport is now served by only American Eagle, which offers daily regional service to its hubs in Dallas/Ft. Worth and Chicago – O'Hare.
Springfield-Branson National Airport – Springfield, MO (SGF)
Opened as Springfield-Greene County Airport in 1945, the airport saw its first commercial flight in 1946 served by American Airlines. After disagreements between the city and the county, as well as the rise in visitors to nearby Branson, MO, the airport was renamed to reflect both Springfield and Branson. While it never became a major airport, it currently does offer regional service to most hubs such as Chicago, Atlanta and Denver, via American, Delta and United respectively. In addition, the airport has seen a recent uptick in traffic, as ultra low-cost carrier Frontier has been able to capitalize on the tourist attractions in Branson.

Joe joined AirlineGeeks in 2014, and in his current role as Editor-in-Chief manages a growing team of writers both in North America and Europe. He enjoys spending the bulk of his time researching, learning and analyzing the latest trends in the airline industry, all while mentoring new members of the AirlineGeeks team who seek to do the same. Areas of research include revenue management, codeshare and alliance partnerships and airline financial results.

Latest posts by Joe Pesek (see all)