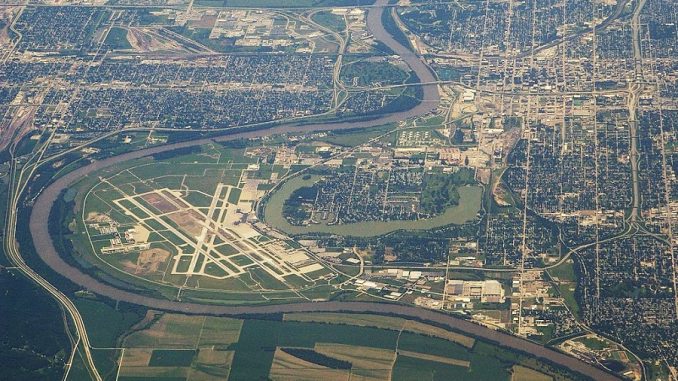 The heart of the Midwest is known for it's stretches of endless farmlands and plains. Kansas and Nebraska are examples of airports that provide for these calmer regions. Here are the most noteworthy airports from among the flat plains and farmland of the Midwest.
Major Airports
Eppley Airfield – Omaha, Nebraska
Located three miles from Omaha, Eppley Airfield is the largest airport between the two states. The airport is named after Eugene Eppley who created Eppley Hotels and was responsible for upgrading the airport after his passing. The airport peaked in the 1990s with the starting of a focus city thanks to Midwest Airlines. When the airport had Midwest, their route map expanded to include Milwaukee, Kansas City, Los Angeles, Orlando and Washington (DCA). However, the deal ended in 2002 as Midwest restructured and no carrier has launched a new hub since.
Presently, the airport is serviced by seven carriers that provide routes to twenty-six airports. The most popular route is the Omaha-Denver route which is operated by Frontier, Southwest and United and sees almost 300,000 travelers per year. The airport saw over four million passengers in 2015 with traffic totals rising a little over 1% when compared to 2014.
Omaha consists of a main terminal and two branching concourses. Concourse A houses a majority of the carriers, with Alaska Airlines, Allegiant Air, American Airlines, Delta Air Lines and Frontier Airlines operating out of the ten gates. Concourse B is home to only two airlines, Southwest and United and also contains ten gates. There are no airline lounges in any of the concourses. Eppley Airfield has three major runways with parallel runways 32L-14R and 32R-14L doing most of the heavy work for the airport. The airport also has another runway that intersects the two being runway 18-36. Eppley is currently going through repaving the concrete around the concourses in anticipation for the possibility to build a new terminal. The new terminal will not be considered until the airport reaches max capacity of 5.4 million annual passengers.
Wichita Dwight D. Eisenhower National Airport – Wichita, Kansas
While most states see airports that max 5 million annual enplanements, Kansas's biggest airport only sees 1.5 million annual enplanements. The city of 300,000 people recently renamed the brand new airport after President Dwight Eisenhower, the only President from Kansas. The airport has never been a hub for any airlines however it was home to now defunct regional carrier Air Midwest.
Due to the small size of Wichita, the airport only has six carriers that service 13 airports. Wichita's most popular destination is Dallas-Ft. Worth with American Airlines hauling 140,000 people between the two cities in 2015. Other cities with over 100,000 passengers include Delta's Atlanta-Wichita route, a Wichita-Chicago O'Hare route shared by American and United and United's Denver-Wichita service. Southwest also use to service the Chicago and Dallas markets but the carrier switched to St. Louis and Phoenix in hopes of winning over the Wichita area.
Wichita use to have a single terminal, two-concourse layout like Eppley Airfield but recent construction of a new terminal has left the airport with a single terminal. The new structure allows for more space and more room to expand with twelve gates. Each carrier has two gates to work with except for Allegiant Air, which only operates out of gate 3. Alaska Airlines launches Seattle-Wichita flights on SkyWest Embraer ERJ-175s in April 13, 2017 and has not been assigned a gate yet. Much like Eppley, Eisenhower has three runways with the main two being parallel. The two parallel runways are runways 19R-1L and 19L-1R and the third runway, 32-14, intersects runway 19R-1L. Despite the lack of commercial traffic, Wichita still sees plenty of traffic with local aerospace corporations like Bombardier and Cessna testing jets in the area and some local military bases like Tinker AFB and Vance AFB sending jets to the ICT airspace. With the completion of the new terminal in 2015, Wichita has no plans to any future construction on the terminal complex.
Minor Airports
While the two major cities receive most of the air service, some smaller markets get commercial service as well. Delta and United both service Lincoln, Nebraska to the Lincoln Airport with Delta flying to Atlanta and Minneapolis and United flying to Chicago (ORD) and Denver. Central Nebraska Regional Airport in Grand Island sees service from both American Airlines and Allegiant Air and combining for four destinations. Manhattan Regional Airport received American Airlines ERJ-145 flights to both Chicago O'Hare and Dallas-Ft. Worth. Salina Regional Airport and Dodge City Regional Airport receive Great Lakes Airlines service to Denver. North Platte Regional Airport also receives service to Denver but they receive their flights on PenAir.

Ian has been an avgeek since 2004 when he started spotting US Airways Express planes at Johnstown Airport in Johnstown, Pennsylvania. He now lives in Wichita and enjoys spotting planes in Kansas City and Wichita as well as those flying at high altitudes over his home. He is a pilot with more than 40 hours of experience behind a Cessna 172, Diamond DA-20, and Piper PA-28. He flies Southwest Airlines on most of his domestic flights and Icelandair when flying to Europe. Ian's route map spans from Iceland and Alaska in the north to St. Maarten in the south. He is a student at Wichita State University, where he will study aerospace and mechanical engineering.

Latest posts by Ian McMurtry (see all)