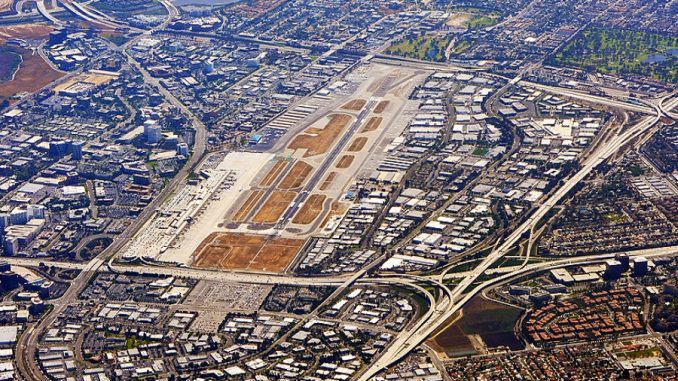 This is part two of two for the state of California.
Being the most populous state in the United States, California has a large demand for air travel. With a prime location on the West Coast along with popular destinations, the airports thrive off of high amounts of travel.
PRIMARY MINOR AIRPORTS:
John Wayne Airport — Santa Ana, CA
While many may not know where you are going when you say John Wayne Airport (SNA), people will quickly figure it out when you say Orange County. As the sole commercial airport in Orange County, John Wayne is the gateway to the world for people traveling to Disneyland and for the Southern Los Angeles Basin. By far, Southwest Airlines is the largest carrier out of Orange County, but there are also flights from all major U.S. airlines and international flights via WestJet to Canada and Alaska Airlines to Mexico.
Due to surrounding residential areas, SNA faces a server noise abatement curfew and noise abatement rules.  Certain flights are required to lower engine power upon departure or make a very sharp turn instantly upon take off. The noise curfew prohibits commercial departures between 10:00 pm and 7:00 am (8:00 am on Sundays) and commercial arrivals between 11:00 pm and 7:00 am (8:00 am on Sundays.)
Norman Y Mineta San Jose International Airport — San Jose, CA
Norman Y Mineta is better known as San Jose International Airport or SJC. It is considered a secondary airport in the San Francisco Bay area but is constantly growing. Its location, in the heart of the Silicon Valley, leads it to draw many flights from within the United States but also from international destinations. The dominant carrier is Southwest Airlines, with Alaska Airlines and subsidiaries closely behind. SJC also features flights from Air China, All Nippon Airlines, Hainan Airlines, and Lufthansa. The top destination from SJC is LAX with three carriers combining for 584,000 passengers a year.
Due to the airports location relative to downtown San Jose, there is very little room for expansion and the city of San Jose has height restrictions on buildings per FAA regulations.
Oakland International Airport — Oakland, CA
Like San Jose, Oakland (OAK) is a secondary airport in the San Francisco Bay Area. However, it is the closest of the three Bay Area airport to the San Francisco financial district. Southwest Airlines is the largest carrier at Oakland, carrying about 71 percent of passengers in 2015. Oakland is becoming an increasingly popular destination for Norwegian Air Shuttle flights from Europe. Along with flights to Mexico, Oakland features flights to Portugal, Spain, England, Sweden, Denmark, and Norway. Just like at San Jose, the busiest route is to LAX, carrying 570,000 passengers per year.
Long Beach Airport — Long Beach, CA
Long Beach Airport (LGB) is a secondary airport in the Los Angeles area and the largest airport in Long Beach. Although Los Angeles International is just 18 miles to the north, Long Beach still has a respectable amount of flights, most notably from JetBlue Airways. JetBlue classifies Long Beach as a focus city and serves 14 destinations. Long Beach also sees minimal service from American Airlines, Delta Airlines and Southwest Airlines. However the most common operations at LGB are general aviation movements, accounting for 87 percent of movements.
SECONDARY MINOR AIPORTS:
Sacramento International Airport — Sacramento, CA
Sacramento International Airport (SMF) is the main airport in Sacramento and served 9.6 million passengers in 2015. The two-runway airport features two terminals with service across the United States and to Mexico. With service from all major U.S. airlines, there are many options for passengers traveling to and from Sacramento and the northern reaches of California. Like with many other airports in California, the busiest route out of SMF is Los Angeles, serving about 546,000 people in the last year.
Ontario International Airport — Ontario, CA
Ontario International Airport (ONT), is located just 38 miles east of downtown Los Angeles. Although, the airport carried 4.2 million passengers in 2015, the airport still is nowhere near maximum capacity and its peak in 2007 of 7.2 million passengers. Southwest Airlines is the largest passenger carrier with a 59 percent market share. ONT is best known for its large UPS Airlines presence. UPS calls Ontario a hub and operates many domestic and international cargo flights from here.
Jace has been working at AirlineGeeks for nearly three years. Born in Seattle, Boeing and aviation quickly took over his life and he never stopped looking up. Jace enjoys plane spotting and taking trips just so he can fly. He is currently studying at Embry-Riddle Aeronautical University while earning his Bachelors of Science in Air Traffic Management.
Latest posts by Jace Moseley (see all)