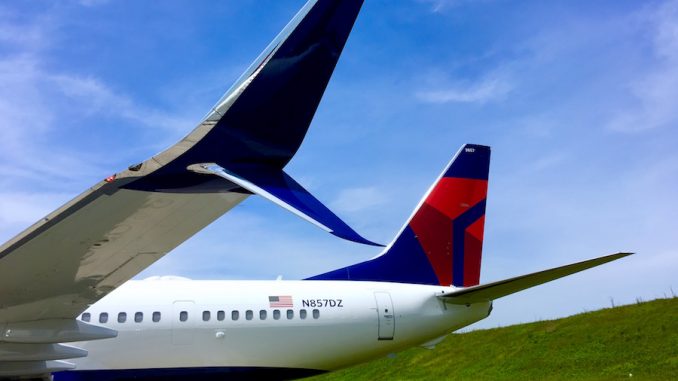 At approximately 7:00 p.m. EST on Sunday, an issue caused a ground stop for all domestic Delta flights, including regional carriers.
The Federal Aviation Administration (FAA) has published this advisory in regards to the system outage:
GROUND STOP DAL AND SUB CARRIERS TO DOMESTIC DESTINATIONS.
INTERNATIONAL FLIGHT ARE EXEMPT. THIS IS DUE TO AUTOMATION ISSUES
WITH DAL. UPDATE AT 0030Z.
The issue appears to have started prior to the ground stop around 6:30 p.m. EST with customers reporting issues at various airports.
@delta system is down in Atl any news???

— John Brown (@jpwbvi) January 29, 2017
Flights in the air remain unaffected and the outage does not affect flights to international destinations. The airline said in a statement, "Delta teams are expeditiously working to fix a systems outage that has resulted in departure delays for flights on the ground. Flights in the air remain unaffected."
The outage appears to have also extended to Delta.com and the carrier's mobile app in which bookings, flight status, and other functions were not displayed.
Sources familiar with the outage tell AirlineGeeks.com that the outage is creating flight planning issues, however, these reports have not been confirmed by the airline.
In August, Delta experienced an outage in Atlanta, causing numerous delays and cancellations spread over a period of multiple days.
Delta has yet to provide specific details on the cause of the outage.
Update (10:09 p.m. EST): According to the FAA, the nationwide ground stop for Delta mainline and regional flights has been lifted. However, ground stops for the carrier's hubs will continue, including ATL, JFK, MSP, DTW, LAX, SEA, etc.
Latest (12:42 a.m. EST): Delta says approximately 150 flights were cancelled in light of the outage with more expected as the airline's operations return to normal.
"I want to apologize to all of our customers who have been impacted by this frustrating situation," said Delta's CEO Ed Bastian. "This type of disruption is not acceptable to the Delta family who prides itself on reliability and customer service. I also want to thank our employees who are working tirelessly to accommodate our customers."
The airline has also issued a travel waiver for passengers scheduled to fly on Jan. 29 and 30, for rebooking by Feb. 3. Additionally, unaccompanied minors will not be accepted for flights through noon (EST) on Monday.
Ryan is a young avgeek who enjoys all aspects of aviation. He has had experience in almost every field of aviation. From writing articles to actually flying, Ryan has done it all!

He has about two hours of flying "under his belt" and he has a collection of 40 plus airplane models, plus airline memorabilia, collectibles and hundreds of aviation photos. Now, Ryan mainly writes articles and collects avgeek stuff. He's had his head in the clouds for more than 16 years and will always look up when he hears a jet roar. In addition to writing and editing for AirlineGeeks, he volunteers as a Travelers Aid at Reagan National Airport in Washington, D.C.
Latest posts by Ryan Ewing (see all)