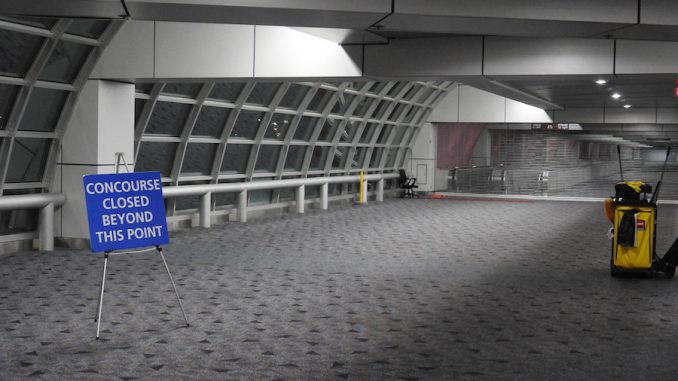 While many terminals don't get a second chance once they close, Lambert-St. Louis International Airport is doing the opposite. The former TWA hub has seen great declines in air service compared to its 2001 performance, however the airport is seeing a slow rise in traffic thanks to Southwest Airlines. As a result, Lambert is starting to revive the old Terminal 1 – Concourse D.
Concourse D's far eastern end has been renamed part of Terminal 2 with changes to gates D34, D36, D38, and D40 to E34, E36, E38, and E40. This change will leave the closed Concourse D with only thirteen gates. Concourse D hasn't seen service since 2011 when Cape Air and American Airlines needed a temporary home after a tornado had damaged Concourse C.
However, the gates that are being remodeled haven't seen service since American Airlines downsized their St. Louis hub in 2006. Despite St. Louis renovating four gates, much of the airport remains behind walls with Concourse D shielding 13 gates (D0-D32), Concourse C's far end (gates C29-C38), and all of Concourse B.
The new gates are only going to be prepared for service but not open to the public yet. Current work at the concourse involves changing out the signs and replacing the carpeted floors with tile to match that of Terminal 2 as well as giving the walls a new coat of paint.
The gates will not be fully prepared either, so Southwest will be in charge of adding their signage and well-known boarding towers should the carrier choose to operate out of the space.
Southwest has seen rapid growth in St. Louis over the recent years. The carrier took hold of 12 slots at Terminal 2 gates E31-E33 when the gates aren't in use for international arrivals of Xtra Airways and Frontier Airlines.
Southwest, who has taken over number one carrier in St. Louis after American dismantled their hub, has topped 100 daily flights from St. Louis in 2016 and added new routes to Little Rock, Des Moines, Oakland, Cleveland, Pittsburgh, and Wichita last year.
Future destinations for Southwest in St. Louis include Charleston and Pensacola which both start in June 2017. While the first four gates should help expansion, St. Louis will have to make more strategic decisions in the future with some of Concourse D lacking jetbridges and Southwest expanding farther away from their check-in counter in Terminal 2.

Ian has been an avgeek since 2004 when he started spotting US Airways Express planes at Johnstown Airport in Johnstown, Pennsylvania. He now lives in Wichita and enjoys spotting planes in Kansas City and Wichita as well as those flying at high altitudes over his home. He is a pilot with more than 40 hours of experience behind a Cessna 172, Diamond DA-20, and Piper PA-28. He flies Southwest Airlines on most of his domestic flights and Icelandair when flying to Europe. Ian's route map spans from Iceland and Alaska in the north to St. Maarten in the south. He is a student at Wichita State University, where he will study aerospace and mechanical engineering.

Latest posts by Ian McMurtry (see all)