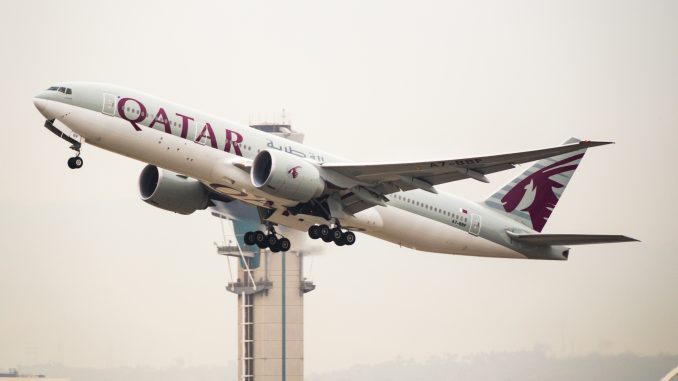 Doha-based Qatar Airways will be operating the world's longest scheduled passenger flight between Doha and Auckland. This new route will surpass Emirates' Dubai to Auckland route, which currently holds the title.
Qatar's newest route is scheduled for a flight time of 16 hours and 20 minutes, which beats the Emirates flight by only 208 miles or approximately 15 minutes.
The 9,032 mile trip will begin in Doha at 5:10 a.m. local time, arriving in Auckland at 7:30 a.m. local time on Monday. The flight will be operated by the carrier's Boeing 777-200LR which seats 259 passengers in a two class configuration.
The new world's longest flight was announced in March 2016 to begin on Dec. 3, 2016. The launch was delayed to Feb, 1, 2017 and yet again to Feb. 5. The apparent cause of the delay was due to a shortage of Boeing 777-200LRs, which has the sufficient maximum range of 9,845 miles to operate the route. The airline has nine 777-200LRs in their current fleet.
Monday's return flight from Auckland to Doha will be significantly longer than the outbound at 17 hours and 30 minutes as flight 921 thanks to varying headwinds.
Dubai-based Emirates previously held the record for world's longest flight with a 8,824 mile trip from Dubai to Auckland on an Airbus A380. Like Qatar, the route was previously operated by the Boeing 777-200LR starting in March 2016.
This nonstop service gives Emirates more than 2,000 seats a day to New Zealand in both directions, complementing additional flights to Auckland via Sydney, Melbourne, and Brisbane. The airline also operates to Christchurch.
In addition to Emirates' Dubai to Auckland route, Qatar's new record setting flight is comparable to other longer routes, including Qantas' Dallas to Sydney flight at 17 hours and 15 minutes operated by an A380.
By the end of 2018, the flight will be overtaken by Singapore Airlines' 9,529 mile route from Singapore to New York using an ultra long range Airbus A350XWB. This route was originally operated by an A340-500 and ended in 2013.
Crossing through 10 different time zones, Qatar's new route will be operated as flight 920 and can be tracked using FlightRadar24 or FlightAware.
Ryan founded AirlineGeeks.com back in February 2013 (actually, it was called Aviation Official, but we've changed a bit since then). From being on the yoke of a Piper Navajo, to visiting about Delta's operations center in Atlanta, Ryan has done it all. in 2016, along with American Airlines, Ryan masterminded AAviationDay at more than 10 locations around the world. The smell of jet fumes in the morning along with the countless number of passionate airline employees keep him enthralled in the industry, always seeking more. You can find him helping out travelers at Reagan National Airport near Washington, D.C. when he's not doing something for AirlineGeeks.
Latest posts by Ryan Ewing (see all)