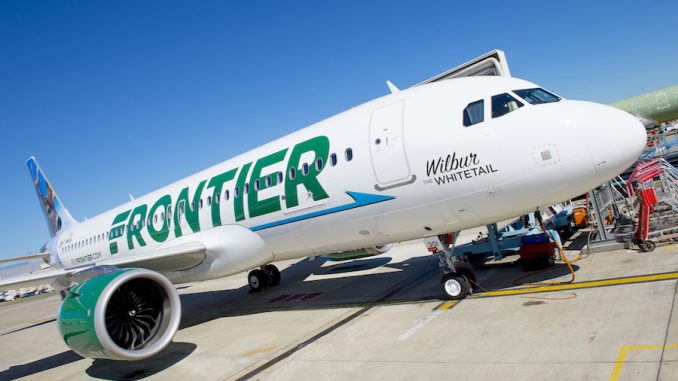 On Tuesday, Denver-based Frontier Airlines announced a sizable network expansion at both Las Vegas and Colorado Springs. The company outlined eleven new routes, with seven at Colorado Springs, five of which will be seasonal, and four at Las Vegas. 
Currently, the airline serves three routes from Colorado Springs and sixteen from Las Vegas.
The new routes will begin in June and July. Las Vegas will see the addition of Bismarck, N.D, Sioux Falls, S.D, Indianapolis, IN, and Washington Dulles. 
Colorado Spring will see service to Chicago O'Hare, Tampa, Ft. Meyers, San Francisco, Los Angeles, and Washington Dulles. The routes will be served with a mix of Airbus A319 and Airbus A320 aircraft.  
The airline appears to again be focusing on smaller markets, a move attempted in the past but then reverted back to focusing on major markets. Frontier will compete with Las Vegas-based Allegiant Air on the routes to Sioux Falls and Bismarck.
Colorado Springs, located just south of the carrier's Denver headquarters, was once a focus city for the airline before service was cut back and eventually eliminated altogether before being reinstated last year. The latest move again sees an increase in the airline's presence at the airport and hopes that the new routes will succeed.
Frontier has undergone a significant change over the past decade from being a low-cost carrier to now an ultra low-cost carrier. During this time the airline entered smaller markets such as Trenton, NJ.
Recently the airline returned to focusing on larger markets such as Baltimore and Newark. This latest expansion sees the airline dipping their toes into the smaller markets again. Allegiant Air pioneered low-cost service to smaller airports, but like Frontier, they too have recently added larger markets.

Daniel has always had aviation in his life; from flying to the United States when he was 2, to flying to Tampa and Las Vegas for family vacations. Aviation has always had a strong influence in his life. Daniel grew up in Indianapolis, Indiana and moved to his current South Florida home in 2010. He favors Ft. Lauderdale-Hollywood International Airport but also fly's out of Miami International Airport when traveling back to his native England. He is currently attending Nova Southeastern University in Davie, Florida and is on track to graduate in 2018 with a degree in Human Factors in Aviation and his pilot's license. When he graduates he hopes to become a commercial pilot.

Latest posts by Daniel Morley (see all)