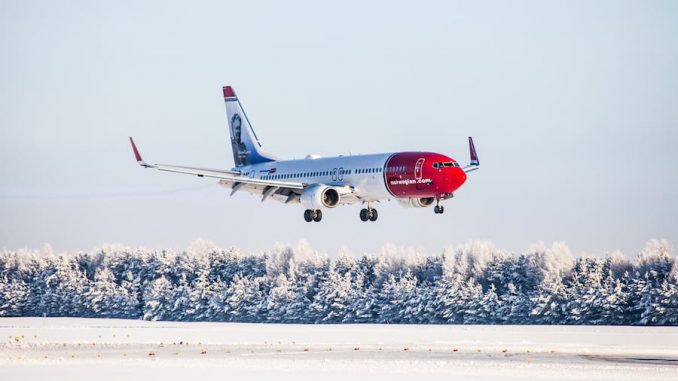 Norwegian Air International, the Ireland-based subsidiary of Norwegian Air Shuttle, announced on Feb. 23 that the airline would begin flights between Dublin, Edinburgh, and Belfast, Northern Ireland and Providence, R.I., Hartford, Conn., and Newburgh Stewart Airport in New York.
The flights are due to begin anywhere from June 15 to July 3, with different flights operating with varying frequencies, as shown in the table below. Norwegian has said all the routes will be operated by the Boeing 737-MAX aircraft which the airline will be receiving in the next few months.
This is certainly not the first time a narrow body aircraft has operated transatlantic flights. Today, numerous airlines operate these types of routes using the Boeing 757 aircraft. But even if those are disregarded given the length and sizeable range of the aircraft, lots of other flights across the pond operated via narrow-body aircraft.
One of the most well known of these flights is British Airways' Airbus A318 flight between New York's John F. Kennedy International Airport and London City. Iceland-based low-cost carrier WOW Air uses the Airbus A321 aircraft for many of its flights across half of the Atlantic.
Norwegian's Scandinavian neighbor, SAS, previously operated an all business class Boeing 737 flight between Stavanger, Norway, and Houston, but that flight was discontinued due to "decreased activity in the oil industry." More recently, the airline has been operating the 737 aircraft on a direct flight between Boston and Copenhagen.
The narrow-body aircraft operating a long-haul flight is nothing new, but why do airlines do it? Why not tack on a few more seats and send a wide body?
Resources
This first reason may be the most obvious, but it is an important one to note. Some airlines do not have enough wide body aircraft to send to all the destinations they would like. Many airlines cannot afford to purchase large numbers of giant aircraft due to their expensive price tags.
As a result, airlines choose which destinations require the wide-body aircraft owing to the distance or the passenger load factor. WOW Air, for example, has only three Airbus A330 aircraft. They began operating them on flights to Los Angeles and San Francisco, routes that cannot be operated by their other aircraft types due to the distance from their hub in Reykjavik.
While the airline would likely add capacity on some of the routes on which they currently operate smaller A321 aircraft, they are relegated, at least for now, to operating narrow bodies.
Loads and Operating Costs
While airlines are sometimes constrained by their aircraft size, they oftentimes make the decision to fly smaller aircraft on routes because a larger aircraft would not be financially viable. A large part of this has to do with the number of people willing to fly a given route, as an airline will not want to operate a route if they will be unable to turn a profit. But another part of this stems from the cost to operate such a flight.
For a typical transatlantic distance, the 737 MAX 8 ranks above every other aircraft type in fuel per seat at 110 miles per gallon per seat. This tops even Boeing's newest, most efficient widebody, the 787.
So, in a case where a 737 MAX, like the ones Norwegian is planning on using on their new flights, is plausible for use on a route, there is not a huge downside to operating those instead of the 787, except for the need of multiple gates, if necessary.
While a huge number of factors go into deciding which aircraft should operate a particular route, a big trend involves the fact that low-cost carriers are switching to a model involving narrow-body aircraft on long haul routes. Deciding whether or not this is beneficial for the customer involves numerous other factors.
There will be plenty of uncertainty about Norwegian's upcoming routes until they are able to prove their financial viability. One glaring certainty, however, shines through: with smaller planes able to fly longer distances, carriers will have the opportunity to open up airports never before touched by regular transatlantic service, leaving more customers closer to Europe than ever before.

When he was just six months old, Parker took his first flight. From that point, he was destined to love aviation. His mom worked for Southwest Airlines much of his family have been frequent flyers on American Airlines for years, just as Parker is now. In 2015, Parker, inspired by aviation accounts on Instagram, decided to create an account of his own, and he hasn't stopped spotting since. On top of that, Parker has been writing for his school paper since his freshman year and has been writing and doing photography work for AirlineGeeks since August 2016.

Latest posts by Parker Davis (see all)