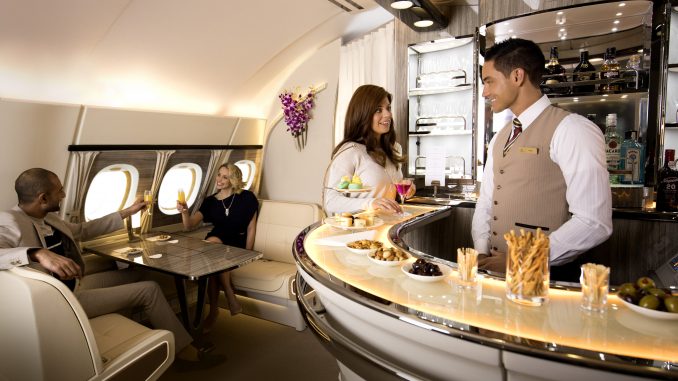 Dubai-based Emirates has officially unveiled its latest iteration of the Airbus A380's signature onboard lounge. The new lounge, announced back in February 2017, was unveiled at the Emirates stand at ITB (Internationale Tourismus-Borse) in Berlin on Wednesday.
The new lounge, part of a multi-million dollar cabin upgrade program which will see cabin enhancements for both Boeing 777 and A380 fleets, will be fitted onboard all new A380 aircraft, with the first due to be put into service in July 2017. There are currently no plans to refurbish the A380 aircraft currently operating in its fleet.
While the lounge retains the signature horseshoe-shaped bar, significant upgrades have been made to the seating arrangements. Eight seats accompanied by tables and window views have replaced the previous curved seating layout while still allowing space for up to eighteen guests to stand and enjoy the bar's offerings.
The carrier has taken inspiration from private yacht cabins, using champagne color schemes, wood trimmings, and ambient mood lighting to create what the airline calls an "airier look and feel." Sir Tim Clark, President of Emirates Airline hopes that the new design will make the lounge more inviting.
The onboard lounge was first introduced in 2008, and has proven a hit with business and first class customers. Providing an open environment for customers to stretch their legs, sample gourmet food offerings or try out one of the many cocktails on offer.
The new lounge will also introduce soundproof partition curtains, to separate it from the first and business class cabins and will be fitted with surround sound and a 55-inch LCD screen allowing customers to relax and enjoy the live entertainment or news updates.
The airline currently operates 93 A380 Aircraft to over 40 destinations across 5 continents. It currently has another 49 aircraft on order with the first due to be delivered and entered into service with the new revamped bar in July 2017.
Josh is a long term aviation enthusiast and aspiring commercial airline pilot. From a young age he has immersed himself in all things aviation. From plane spotting at local airports and airfields, to racking up frequent flier miles on trips abroad, Josh is a huge AvGeek at heart. He is currently in his third and final year of university in the United Kingdom, studying for a degree in Air Transport alongside his full flight training towards a frozen Air Transport Pilot's license. He currently has his PPL and CPL with around 200 hours of flying experience in various aircraft and is expected to start his Instrument rating later this year. He frequently flies on one of his favorite airlines, British Airways and is an avid Avios collector and British Airways Executive club member.

In his spare time, while not studying, flying or immersing himself in aviation he enjoys spending his time volunteering in a variety of roles and running a blog to help other aspiring pilots pursue their dream.
Latest posts by Joshua Drabble (see all)