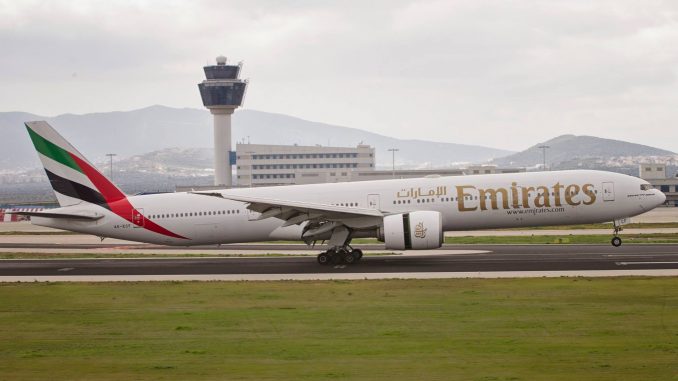 On Sunday, March 12,  Dubai-based Emirates launched its brand new route to Newark via Athens. The route, operated by a Boeing 777-300ER, marks the airline's 12th destination in the United States and 155th globally.
The route, bearing the flight number EK 209, was announced back in January and launched on Sunday, being described by Emirates as a "great benefit to the United States substantial Greek community of approximately 1.3 million people." It was officially celebrated yesterday by the traditional inaugural water cannon salute and a celebratory cake cutting by senior officials.
The route marks the second airport in the New York City area to see operations from the airline and will complement the carrier's already existing four daily flights between Dubai and New York-JFK. Hubert Frach, Divisional Senior Vice President of Commercial Operations West, said, "The launch of this year-round daily service will allow us to offer Emirates' unique product and award-winning service to passengers on a route long neglected by other airlines".
Meanwhile, Diane Papaianni, The General Manager at Newark Liberty International Airport, said "It is always a great pleasure to announce new air services, route expansions and partnerships at our airport…Our airport has a vast network of destinations and we are delighted to have Emirates join our airline family and offer more travel options to our customers."
However, the route has not been without conflict. United Airlines announced yesterday that its employees, members of congress and union representatives had rallied at Newark International Airport in protest of the new route offered by the gulf carrier.
The protest, aimed at highlighting the unfair competition while protecting American jobs, was expected to be attended by 150-200 people and is the latest event in a long feud between the big three middle eastern carriers, Emirates, Etihad, and Qatar Airways, and their American rivals, Delta, American, and United Airlines.
A key point in the feud between these airline giants is the accusations from the U.S. carriers  that their Gulf carrier rivals have received more than $50 Billion in subsidies from the governments of the United Arab Emirates and Qatar, which as a result allows them to undermine U.S. carriers, operating routes which would be seen as otherwise uneconomical without these subsidies.
However, the Middle Eastern airlines also accused their American counterparts of receiving more than $100 Billion in support from the U.S. government in bankruptcy protection, antitrust immunity, direct grants, and other means.
The concern for the American carriers is that these routes will undermine competition, disrupt the market and ultimately lead to the potential loss of thousands of American jobs when the airlines have to discontinue long-haul international routes because they simply cannot compete.
Oscar Munoz, United Airlines' CEO, stated in a recent interview to Business Insider UK that he believes Emirates would potentially lose $25 million dollars on the new route based on their own experience of operating the service.
Emirates, along with the other Gulf Carriers, currently take advantage of Open Skies Air Service Agreements (ASAs) signed between countries and the freedoms of the air, decided at the Convention of International Civil Aviation in 1944.
These freedoms distinguish a set of rules which allow an airline to overfly, land and operate routes into a country. In this case, Emirates is using the ASAs and fourth freedom traffic rights, or the right to take up passengers in the first state and transport them to the home state of the carrier, to take passengers from the USA to the Gulf.
For the opposing flight, Emirates is exercising the third freedom of the air, or the right to put down passengers in one state having traveled from the home state of the carrier; to transport passengers from the Gulf to the USA.
In response to this, a report was submitted to the United States Government by the three legacy carriers in the US back in January of 2015 in an attempt to have these air service agreements terminated or altered to prevent unfair competition and the loss of American jobs.
However, after extensive talks between the two governments, the final decision was that the U.S. Government will take no action against the Gulf Carriers. Thus the feud continues between the global airline giants as the Gulf Carriers continue to look for expansion into the United States.
Josh is a long term aviation enthusiast and aspiring commercial airline pilot. From a young age he has immersed himself in all things aviation. From plane spotting at local airports and airfields, to racking up frequent flier miles on trips abroad, Josh is a huge AvGeek at heart. He is currently in his third and final year of university in the United Kingdom, studying for a degree in Air Transport alongside his full flight training towards a frozen Air Transport Pilot's license. He currently has his PPL and CPL with around 200 hours of flying experience in various aircraft and is expected to start his Instrument rating later this year. He frequently flies on one of his favorite airlines, British Airways and is an avid Avios collector and British Airways Executive club member.

In his spare time, while not studying, flying or immersing himself in aviation he enjoys spending his time volunteering in a variety of roles and running a blog to help other aspiring pilots pursue their dream.
Latest posts by Joshua Drabble (see all)