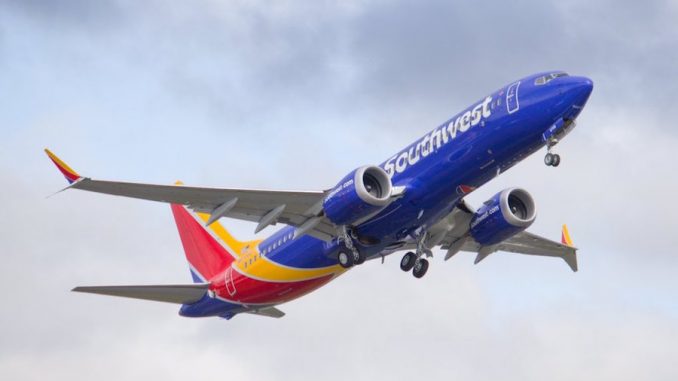 Southwest has announced initial routes for its Boeing 737 MAX 8 aircraft following the opening of the carrier's Fall 2017 schedule. Also, with the addition of the 737 MAX, the Dallas-based airline is retiring their 737-300 fleet.
The 737 MAX 8 will join Southwest's schedule on Oct. 1, 2017, operating between Dallas to Houston (flight WN1), Houston to San Antonio (flight WN2), and San Antonio to Dallas (flight WN3). These flights pay homage to the carrier's 1970s roots when they began customer operations with only three Boeing 737-200s.
Southwest's 737 MAX fleet will be put right to work following delivery. In addition to these routes, RoutesOnline reports that the recently developed aircraft will serve over 20 cities on one-way flights throughout the airline's network. These routes include flights from Baltimore, Chicago, Orlando, Denver, Las Vegas, Los Angeles, Pheonix, and St. Louis.
Prior to the start of scheduled operations, Southwest expects to have nine of the 737 MAX aircraft in its fleet with the tenth coming about a week later. The airline is slated to have 14 737 MAX 8 aircraft by the end of 2017.
In all, Southwest has 200 737 MAX aircraft on order, including 30 737 MAX 7s and 170 737 MAX 8s. While the carrier initially expected to become the launch customer for the 737 MAX, Norwegian Air Shuttle says it will become the first airline to take delivery of the new aircraft starting in May.
"Norwegian will now be the first airline to take delivery of the Boeing (BA) 737 Max and we will be the first airline in the world to operate this brand-new aircraft type," an airline spokesman said to CNNMoney in January.
Southwest served as the launch customer for Boeing's 737-700 variant in 1997.
Overall, Southwest expects to keep most of the 737 MAX routes within longer-haul markets with overnights at maintenance and crew bases.
Southwest plans to retire their work-horse 737-300 fleet on September 30 in light of the added 737 MAXs. The airline took delivery of their first 737-300 on Nov. 30, 1984. Planespotters.net data shows 79 of these aircraft remain in the current fleet.
This story was last updated on Sunday, March 19, 2017 
Ryan is a young avgeek who enjoys all aspects of aviation. He has had experience in almost every field of aviation. From writing articles to actually flying, Ryan has done it all!

He has about two hours of flying "under his belt" and he has a collection of 40 plus airplane models, plus airline memorabilia, collectibles and hundreds of aviation photos. Now, Ryan mainly writes articles and collects avgeek stuff. He's had his head in the clouds for more than 16 years and will always look up when he hears a jet roar. In addition to writing and editing for AirlineGeeks, he volunteers as a Travelers Aid at Reagan National Airport in Washington, D.C.
Latest posts by Ryan Ewing (see all)