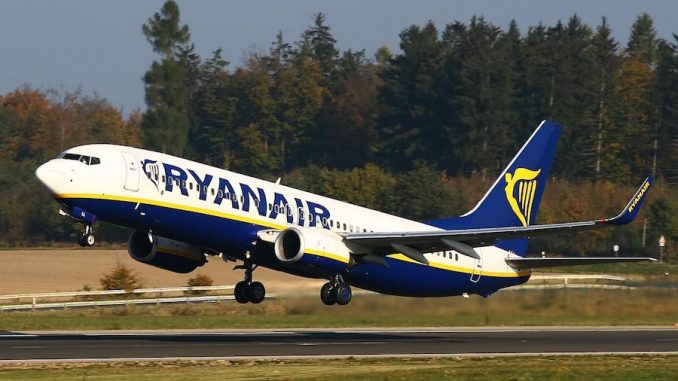 Dublin-based carrier Ryanair has unveiled their 2017 winter schedule for operations at Manchester Airport, featuring some new routes as well as extra frequencies on certain flights. Cities that will be receiving either new service or additional flights include Cologne, Frankfurt, Kiev and Seville, as well as a new winter service to Naples.
Kenny Jacobs, Ryanair's Chief Marketing Officer commented on the expansion out of Manchester: "We are pleased to launch our 2017 Manchester winter schedule, which includes 4 new routes to Cologne, Frankfurt, Seville and Kiev, our first UK-Ukraine route, a new winter service to Naples and 40 routes in total. We are also pleased to report record bookings on our Manchester summer 2017 schedule and customers can look forward to even lower fares so there's never been a better time to book a low fare flight on Ryanair."
Each route will be unique in its growth strategy, with Cologne moving to daily service, Frankfurt becoming six times weekly, Kiev three times weekly and Seville being twice weekly service. The new winter service to Naples will run on a twice per week setting as well. There will also be additional flights to Budapest with the frequency count increasing to five flights per week and Eindhoven to six flights per week. Such additions bring the total route count on Ryanair's Manchester portfolio to 40 routes with 221 weekly flights. This boost will involve Ryanair carrying an additional 4.5 million customers per year. The expansion will also support over 3,000 jobs in the Manchester area.
Manchester Airport's Commercial Director, Stephen Turner, also commented on the route expansions, stating: "It is great to see Ryanair launch its winter programme with the addition of four new routes from Manchester Airport. I am sure all four destinations will prove popular with the 22m passengers in our catchment area that spans north to the Scottish Borders, south to the Midlands, west to Wales and Merseyside, and east across Yorkshire. Ryanair continues to grow and grow from Manchester, the global gateway for the North, and we look forward to working closely with them as they deliver more and more passengers."
As Manchester Airport has continued showing positive growth year over year, Ryanair's winter schedule further solidifies the airline's position as a leader at the airport.
James is a passionate AvGeek who has been actively spotting for years. James has been an Aviation Enthusiast for 7 years and has a fond likening to Concorde! James hopes to grow in the aviation industry with journalism being his primary focus.
Latest posts by James Field (see all)