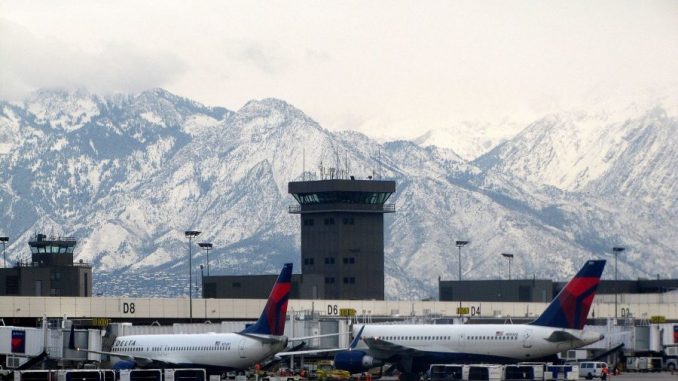 Since the creation of the first airport in 1909 by Wilbur Wright, cities in the United States have come together to create one of the most expansive airport systems in the world. Over the next few months, our writers have taken an in-depth look to see what airports each state has to offer, what its history entails, and what changes we can expect in the future that will continue to shape the airline industry.
Utah was the 45th state admitted to the United States on January 4, 1896 with Wyoming being the 44th state being admitted on July 10, 1890. While Wyoming isn't known for a significant amount of service, Utah has drawn the likes of numerous carriers, particularly Delta, thanks to proximity to nearby ski resorts and a solid connection point for the West Coast.
MAJOR AIRPORTS
Salt Lake City International Airport – Salt Lake City, Utah (SLC)
Being the 4th largest hub for Delta Airlines, Salt Lake City International Airport carries an average of 22.1 million passengers per year. The airport features four asphalt runways as well as three asphalt helipads. The airport's commercial history began in 1920 when the United States Postal Service began cargo operations to Salt Lake City. The first commercial terminal was built in 1933 at a cost of $52,000 which enabled existing carriers such as United Airlines to operate from that terminal.
In terms of carriers from Salt Lake City, the variety is very visible, ranging from major domestic carriers to international carriers. Domestic carriers serving the airport include Alaska Airlines, American Airlines, Boutique Air, Delta, Frontier, JetBlue, Southwest and United Airlines. International carriers such as KLM and Air Canada operate flights to Amsterdam and Toronto respectively. This relationship works well as Delta is able to provide feeder service to its Skyteam partner, KLM. Delta Airlines also has operates flights to Paris Charles De Gaulle. From a cargo perspective, there is quite a bit of competition and range of carriers operating at the airfield. Ameriflight, DHL, FedEx, UPS and Western Air Express operate flights to destinations such as Cincinnati, Sacramento, Boise, Indianapolis, Memphis, Pocatello, Sun Valley and much more. With Delta's dominance at the airport, combined with its continued partnership with KLM and Aeromexico, many expect the airport to continue growing for the years to come.
Jackson Hole Airport – Teton County, Wyoming (JAC)
Featuring one asphalt runway (labelled 1/19 at 6,300 feet), Jackson Hole Airport is home to 13 non-stop airline services across the United States. The airport's history began in 1930 when plans for the airport were in development. The airport was declared a national monument by 1943 and merged with the Grand Teton National Park by 1950. Nine years after that, the runway was extended. Ten years after, another expansion request was put forward but was later successfully opposed by the National Park Service. The airport averages over 250,000 passengers per year.
Carriers such as American, Delta and United dominate the airport with seasonal services to Chicago O'Hare, Dallas, Phoenix, Los Angeles, Atlanta, JFK, Minneapolis, Salt Lake City, Los Angeles, Seattle/Tacoma, Denver, Houston, Newark and San Francisco. In the past, carriers such as Horizon Air, Western Airlines Continental Airlines, Frontier Airlines, Big Sky Airlines and Northwest Airlines use to operate to the field, showing a vibrancy in the airport's portfolio.
MINOR AIRPORTS
St George Regional Airport – Washington County, Utah (SGU)
St George Regional Airport is quite a new airport. Built in January 2011, the airport was a replacement for the old St George Municipal Airport which was located on a mesa in the city. The authorities wanted to expand the Municipal airport, but the city needed the growth to be based on the population of the actual state itself. The airport features one asphalt runway, labelled 1/19 at 9,300 feet and features only three carriers at the airport. The airport averages over 70,000 passengers per year.
Commercial presence dates back as early as the 1950s when Bonanza Airlines operated flights to Salt Lake City via Cedar City, Utah and Provo from the old municipal airport. The only commercial carriers that operate from the airport today include American Eagle on flights to Phoenix-Sky Harbor, Delta Connection to Salt Lake City and United Express to Denver.
Wendover Airport – Tooele County, Utah (ENV)
Converted to a municipal airport from an airbase, Wendover Airport turned into a public use airport. At the time, there was still a military presence at the airport with the 4440th Tactical Fighter Training Group from Nellis AFB, Nevada operating out of the airport from 1980-86. The airport has two 8,000 asphalt runways and averages 5,000 aircraft operations per year. 73% of total operations counted as general aviation.
There are no scheduled airline services that operate out of the airport. However, Sun Country Airlines and Xtra Airways offer flights to certain charter destinations using Boeing B737-800 and McDonnell Douglas MD-83 aircraft. These charters are part of a package deal that bring tourists to the local casinos in order to boost tourism revenues in the area. The airport sees around one charter flight operate out of the airport per day.
Casper-Natrona County International Airport – Natrona County, Wyoming (CPR)
Featuring two asphalt runways, Casper-Natrona International Airport's history began in 1942 as Casper Army Airfield with the 331st Bombardment Group being based there with four squadrons which handled training units for the Boeing B-17 and B-24 bombers. Commercial service began in the 1940s when Challenger Airlines and Frontier Airlines began a 46-year operation from the airport until 1986 when they pulled out of the airport. Delta Airlines eventually made a presence in 1987 after merging with Western Airlines. Delta then used Boeing B727-200 and B737-200 aircraft from their Salt Lake City hub.
Nowadays, Delta continues to operate such service from Salt Lake City, alongside United and Allegiant with flights to Las Vegas and Denver. From a cargo perspective, FedEx operates flights to Boise, Memphis, Portland, Cody, Hayden, Rock Springs, Salt Lake City and Scottsbluff.
Yellowstone Regional Airport – Park County, Wyoming (COD)
Yellowstone Regional Airport is to the Southeast of the central business district of Cody, and is the only commercial airport in Park County. The airport features one asphalt runway and averages around 55,000 aircraft operations per year, 83% of that counting towards General Aviation. The airport averages around 102 operations per day, and recently completed a $12.5 million terminal that was opened in December 2010, with 95% of the cost paid by the FAA.
Choice Aviation and Spirit Mountain Aviation offer flight training, aircraft and hangar rental as well as other service provided by Fixed Base Operators. On a commercial front, Delta and United are the only two commercial carriers to operate from the airport on flights to Salt Lake City, Denver and Chicago respectively. On a cargo front, FedEx and UPS' services occur but are also scarce.
James is a passionate AvGeek who has been actively spotting for years. James has been an Aviation Enthusiast for 7 years and has a fond likening to Concorde! James hopes to grow in the aviation industry with journalism being his primary focus.
Latest posts by James Field (see all)