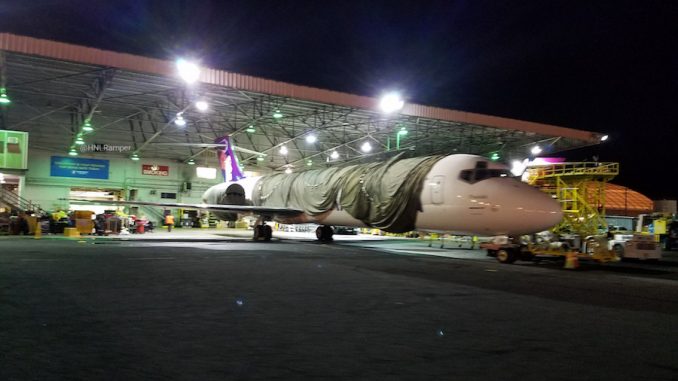 Over the past few years, we have seen many new liveries introduced to the skies as airlines race to update their brand and create a more modern image for themselves. Some airlines like Alaska Airlines and Air Canada have made drastic changes, while others such as Sun Country and Allegiant have made slight modifications to the paint on their planes.
Hawaiian Airlines unveiled their newest livery on Lei Day, a day of statewide annual celebration of Hawaiian culture. The event took place at Honolulu International Airport along with the company's more than 6,000 employees. The airline introduced their latest livery on a Boeing 717 aircraft (N488HA).
The new livery is a slight modification of their current color scheme with an added maile lei wrapped around the fuselage. It symbolizes the warm welcome Hawaiian extends to its guests and the ways traditions bind the airline into a big family.
While the refreshed colors may just look like a minimal modification to their current livery, the airline has been working for over a year with a consulting agent studying the airline's history and working with its employees to arrive at the new design.
Pualani, the lady featured on the tail of the aircraft is also now more prominent than ever featuring bolder purple and orange colors. New pink woven Pakalana flowers have also been added to the tail as a symbol of the larger-than-life expression of the aloha spirit.
"Our new livery embodies a stronger, more contemporary representation of Hawaiian Airlines' culture of service and hospitality, which is the bedrock of our guest experience," said president and CEO Mark Dunkerley. "It acknowledges our place as Hawaii's airline and underscores the commitment our employees make every day to provide our guests with a gracious and genuine island welcome."
By 2020, Hawaiian plans to have painted all 50 aircraft and additional ground equipment in its fleet. Aside from the aircraft itself, the new brand image will be visible at airport check-in desks and gates across all destinations that Hawaiian serves.
Today's new image for Hawaiian is not too different from their previous. The new look offers customers a more modern version of their 2001 livery without any drastic changes.
The airline's brand image has become valuable over the years and strengthening an already strong livery will help the airline continue to grow and become more well-known around the world.
Additionally, for fans of the airline around the globe, it will be nice to see the timeless tail design continue to live on in a newer and bolder way.

Mateen has been interested in aviation from a very young age. He got his first model airplane at six and has been airplane spotting since he was nine years old. He has always had a passion for aviation and loves learning about different aspects within the industry. In addition to writing for AirlineGeeks, Mateen is also an editor for his high school's newspaper. You can also find him on Instagram (@Plane.Photos) where he enjoys sharing his aviation photography with thousands of people everyday.

Latest posts by Mateen Kontoravdis (see all)