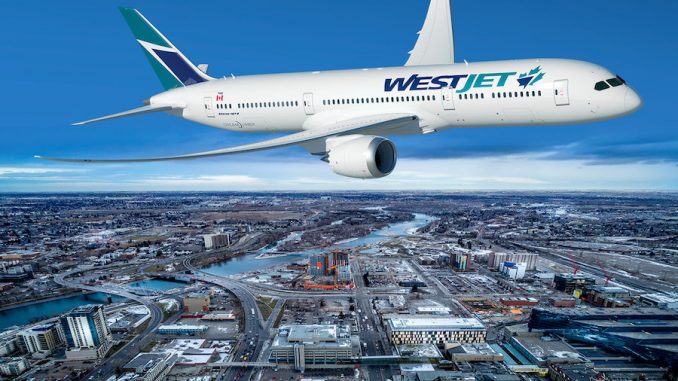 Calgary-based low-cost carrier WestJet announced Tuesday a definitive purchase agreement for up to 20 Boeing 787-9 Dreamliners. The agreement includes commitments for 10 of the stretched Dreamliner variants to be delivered from the first quarter of 2019 to December 2021.
The airline also has options for 10 additional 787 aircraft with delivery expected between 2020 and 2024. WestJet has opted for the General Electric GEnx-1B powerplants. This engine type offers a 15 percent increase in fuel efficiency along with reduced CO2 emissions.
"This order represents an exciting new chapter in WestJet's history," said Gregg Saretsky, WestJet President and CEO.
"Now, with the most sophisticated commercial airliner available, we turn our attention to further growing our international presence and introducing even more travellers to our award-winning guest experience," Saretsky continued.
With this new fleet addition, WestJet hopes to expand in more diverse markets, including South America and Asia. The airline currently operates international Boeing 767-300 flights to London-Gatwick.
According to AirFleets.net, the carrier currently has 119 aircraft in its fleet, including four Boeing 767s and 115 737 aircraft. WestJet took delivery of its first 737-700 in October 2002 followed by the 737-600 variant in August 2005.
In September 2013, the airline placed an order for 65 737 MAX aircraft. Due to the 787-9 purchase agreement, 15 of these orders will convert to options available between 2022 and 2024.
"WestJet, for its entire 21-year history, has been a loyal all-Boeing jet customer and we're excited to see them expand their fleet with the 787," added Ray Conner, Vice Chairman of The Boeing Company in a statement.
Ryan is a young avgeek who enjoys all aspects of aviation. He has had experience in almost every field of aviation. From writing articles to actually flying, Ryan has done it all!

He has about two hours of flying "under his belt" and he has a collection of 40 plus airplane models, plus airline memorabilia, collectibles and hundreds of aviation photos. Now, Ryan mainly writes articles and collects avgeek stuff. He's had his head in the clouds for more than 16 years and will always look up when he hears a jet roar. In addition to writing and editing for AirlineGeeks, he volunteers as a Travelers Aid at Reagan National Airport in Washington, D.C.
Latest posts by Ryan Ewing (see all)