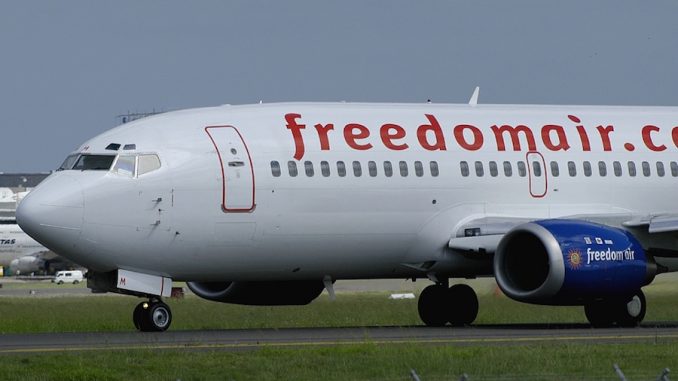 In the summer of 1995, a new carrier entered the trans-Tasman market offering low-fares and no frills, service. This airline was Kiwi Travel International Airlines. In response to the new competition in its home market, Air New Zealand, via its subsidiary Mount Cook Airline, launched Freedom Air.
Freedom Air began operations in December of 1995, using a sole Boeing 757-200. The airline competed directly with Kiwi, by offering low-cost trans-Tasman flights from secondary airports in New Zealand.
Initially, control was held by Mount Cook Airline but was later transferred to parent Air New Zealand. The airline beat its competitor out of the market with Kiwi Travel International ceasing operation in 1996.
The airline continued to operate into the early 2000s, transitioning from the Boeing 757 to a fleet of Boeing 737 aircraft. By 2004 the airline had five Boeing 737-300 aircraft in its fleet. Freedom saw routes from the Australian east coast to cities in New Zealand, including flights from secondary cities in New Zealand such as Hamilton, Wellington, Dunedin, and Palmerston North. Out of those cities, only Wellington and Dunedin still have trans-Tasman service.
The carrier briefly operated flights to Nadi International airport in Fiji, as well as some domestic routes in New Zealand, such as between Auckland and Christchurch. These were later removed to focus on low-cost, trans-Tasman flights that had been at the core of Freedom Air's operation.
By 2007 the fleet had transitioned from the Boeing 737 to the Airbus A320. At the time, all Airbus A320s under Air New Zealand were operated under the Zeal320 air operators certificate.
By March of 2008, Air New Zealand had decided to end the Freedom Air brand. The decision was made in order to consolidate passengers on mainline Air New Zealand flights. At the time there were no aircraft on Freedom Air's air operators certificate, as all flights were operated by Zeal320, and there was only one aircraft painted in the Freedom Air livery at the time of shut down.

Daniel has always had aviation in his life; from flying to the United States when he was 2, to flying to Tampa and Las Vegas for family vacations. Aviation has always had a strong influence in his life. Daniel grew up in Indianapolis, Indiana and moved to his current South Florida home in 2010. He favors Ft. Lauderdale-Hollywood International Airport but also fly's out of Miami International Airport when traveling back to his native England. He is currently attending Nova Southeastern University in Davie, Florida and is on track to graduate in 2018 with a degree in Human Factors in Aviation and his pilot's license. When he graduates he hopes to become a commercial pilot.

Latest posts by Daniel Morley (see all)