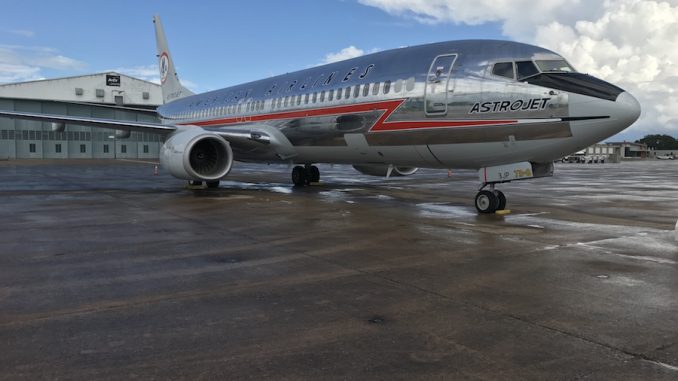 American's AstroJet retro paint scheme has been a long-enduring staple of the airline's fleet. It is beloved among aviation enthusiasts and airline employees alike while still being recognizable by seasoned passengers.
The original livery was painted on N951AA (ship 3CF), the carrier's 50th Boeing 737 aircraft which was delivered in 2000. Last month, that aircraft ferried to New Iberia, La. where it was painted with the standard livery.
Why is this retro livery so recognizable? It's nostalgic. The actual livery was first used in 1964 on the airline's Boeing 727 fleet. The paint scheme harkens back to American's "glory days" in the 1950s and 60s. The "Astrojet" slogan was applied to the carrier's new aircraft during this time and would feature a retro design with vivid red stripes on a polished aluminum fuselage.
Today, the retro livery still has its place in American's fleet of approximately 950 aircraft, now being visible on N905NN (ship 3JP). The airline made the decision to display the paint scheme on another aircraft because N951AA is getting old, meaning that the airplane will likely be retired in the coming years.
N905NN was delivered to American in October 2012 making it a much newer frame. The airplane features the Boeing Sky Interior and overhead entertainment systems. Before featuring the AstroJet scheme, ship 3JP was still in the carrier's polished aluminum livery.
After being rolled out of the New Iberia painting facility on Sunday, the newly painted 737 arrived in Dallas where it is scheduled to visit Nashville and New York-JFK in the coming days, according to FlightRadar24 data.
The decorated 737 joins the carrier's other retro paint schemes, including AirCal (N917NN), TWA (N915NN), Reno Air (N916NN), PSA (N742PS), and Piedmont (N744P). All of which celebrate the carrier's rich history.
Ryan is a young avgeek who enjoys all aspects of aviation. He has had experience in almost every field of aviation. From writing articles to actually flying, Ryan has done it all!

He has about two hours of flying "under his belt" and he has a collection of 40 plus airplane models, plus airline memorabilia, collectibles and hundreds of aviation photos. Now, Ryan mainly writes articles and collects avgeek stuff. He's had his head in the clouds for more than 16 years and will always look up when he hears a jet roar. In addition to writing and editing for AirlineGeeks, he volunteers as a Travelers Aid at Reagan National Airport in Washington, D.C.
Latest posts by Ryan Ewing (see all)