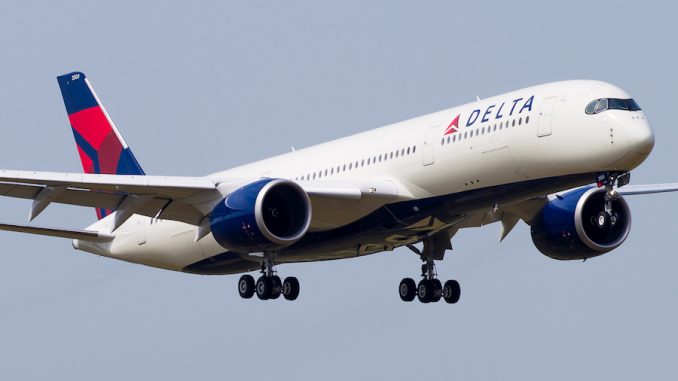 Atlanta-based Delta Air Lines quietly took contractual delivery of its first Airbus A350-900XWB on Thursday at Airbus' Toulouse manufacturing hub. N501DN is the first of 25 frames currently on order for the carrier.
The aircraft rolled out of the paint shop last month before completing a series of test and customer acceptance flights. Sources familiar with Delta's fleet tell AirlineGeeks.com that the aircraft will ferry to Atlanta on August 4 following Thursday's delivery.
Delta's "flagship" A350 will feature the carrier's highly-anticipated Delta One Suites in addition to a new premium economy product called Delta Premium Select. In total, the aircraft will be configured with 32 seats in the Delta One cabin, 48 seats in Delta Premium Select, and 226 seats in economy.
Transfer of title from Airbus to #Delta is complete! #A350-900 welcome to the Delta family! 🇺🇸🛫 pic.twitter.com/cmTMgtX2FO

— Alan Janbay (@AlanJanbay) July 13, 2017
The airline's A350-900XWB aircraft will also see Gogo's 2Ku Wi-Fi service, which offers high-speed, gate-to-gate internet access throughout the globe. Passengers can also expect larger overhead bins and LED mood lighting.
North America's first A350-900XWB is scheduled to fly between Detroit (DTW) and Tokyo Narita (NRT) on October 30. Furthermore, A350 flights between Detroit (DTW) and Seoul (ICN) will operate on alternating days beginning on November 18.
The airline will also commence A350 service on alternating days between Detroit (DTW) and Beijing (PEK) on Jan. 17, 2018, until kicking off daily flights on February 23.
For aviation enthusiasts and 747 lovers alike, Delta's newest widebody jet may not be such a welcome sight.  The new aircraft will initially be based in Detroit to replace the few remaining 747s within Delta's fleet. With an average age of 25.4-years-old, the small 747 fleet flies to Seoul, Tokyo, and Shanghai from Detroit. The airline expects to fully retire the 747-400 fleet by the end of the year.
The A350-900XWB is a step forward as Delta pushes to modernize its aging fleet with newer jets including the Airbus A321 and Bombardier CSeries.
Ryan is a young avgeek who enjoys all aspects of aviation. He has had experience in almost every field of aviation. From writing articles to actually flying, Ryan has done it all!

He has about two hours of flying "under his belt" and he has a collection of 40 plus airplane models, plus airline memorabilia, collectibles and hundreds of aviation photos. Now, Ryan mainly writes articles and collects avgeek stuff. He's had his head in the clouds for more than 16 years and will always look up when he hears a jet roar. In addition to writing and editing for AirlineGeeks, he volunteers as a Travelers Aid at Reagan National Airport in Washington, D.C.
Latest posts by Ryan Ewing (see all)