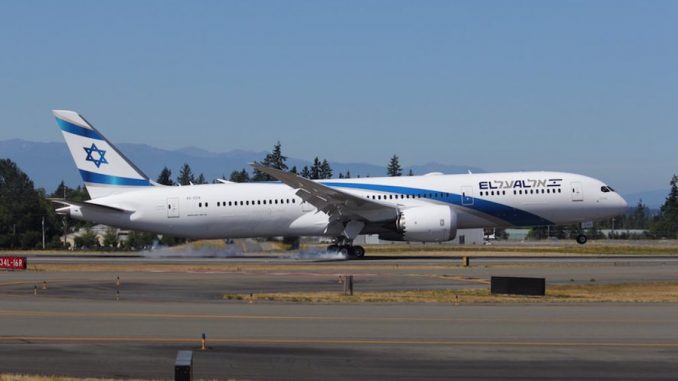 El Al's first Boeing 787-9 Dreamliner made its livery debut on Tuesday at Paine Field after a short flight from the paint shop in Portland. The aircraft, 4X-EDA, arrived in Everett, Wash. with a full paint scheme after completing its first flight earlier this month.
With a price tag of $1.25 billion, the airline has 16 Boeing 787 Dreamliner aircraft on order, including the 787-8 and 787-9 variants, according to Reuters.
The new Dreamliners will replace El Al's aging fleet of Boeing 747, 767-300, and 777-200 aircraft. The 747s are expected to be phased out of the fleet by first quarter of 2019.
Featuring a refreshed interior design, El Al's newest aircraft will see 32 lie-flat seats in business class, 28 premium economy seats, and 222 economy seats. Business class is a sizable change compared to the airline's older aircraft with a 1-2-1 configuration.
Passengers can expect to see these new airplanes flying on the carrier's Tel Aviv to London route starting in September. The aircraft will then start flying between Tel Aviv and Newark from Oct. 29, 2017 (subject to government approval), according to Routesonline.
In March, the airline plans to fly the 787 Dreamliner between Tel Aviv and Hong Kong on a six flights per week schedule.
"We look forward to delivering EL AL's first Dreamliner in August and are honored that it continues to place its confidence in our products," said Ray Conner, Vice Chairman at The Boeing Company.
"We have a special relationship with EL AL that spans more than half a century and are certain that the 787 is the right airplane to usher in a new era for EL AL and its customers, providing new world class passenger comfort, more range, capacity and flexibility from its base in Tel Aviv," he continued in a statement.
The newly minted 787 Dreamliners are in addition to El Al's next generation 737-900 aircraft which are already in service.
Ryan is a young avgeek who enjoys all aspects of aviation. He has had experience in almost every field of aviation. From writing articles to actually flying, Ryan has done it all!

He has about two hours of flying "under his belt" and he has a collection of 40 plus airplane models, plus airline memorabilia, collectibles and hundreds of aviation photos. Now, Ryan mainly writes articles and collects avgeek stuff. He's had his head in the clouds for more than 16 years and will always look up when he hears a jet roar. In addition to writing and editing for AirlineGeeks, he volunteers as a Travelers Aid at Reagan National Airport in Washington, D.C.
Latest posts by Ryan Ewing (see all)