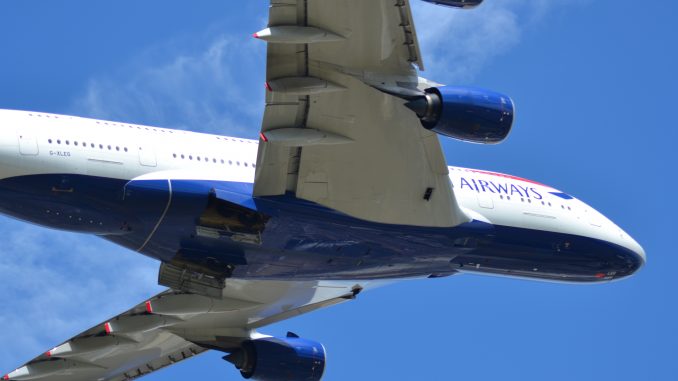 International Airlines Group (IAG), the multi-national airline holding company, has announced that its operating profits have risen by an incredible 37 percent to €975m in the past six months, up from €710m during the same period last year.
The company, which currently owns Aer Lingus, British Airways, Iberia, Level and Vueling, has announced strong half-year figures, bolstered by a strong Easter and lowering fuel prices. The airline saw a 4.6 percent increase in passenger numbers, resulting in a load factor increase of nearly 1 percent from 80 to 80.9 percent.
The strong figures come despite several difficult months for the group. Back in May, an IT problem saw over 700 flights cancelled over three days, leaving 75,000 passengers stranded as British Airways battled to fix the problem. It has now been reported that the glitch cost the group £58m in compensation and baggage claims.
As the largest carrier in the group, British Airways also has also faced a bitter and ongoing dispute between itself and mixed fleet cabin crew, which had resulted in Qatar Airways, who owns approximately one fifth of IAG, stepping in to lend aircraft to minimize disruption to services. The current strike is due to end on August 15.
Meanwhile, passenger revenue has increased by 0.4 percent to €9.57 billion while fuel, oil and emissions costs decreased by 9.3 percent from €2.46 billion in 2016, to €2.23 billion in 2017. Passenger numbers also saw a healthy increase, up 4.6 percent from 46.6 million to 48.8 million.
IAG CEO, Willie Walsh, described the results as "Very strong," citing lower fuel costs while adding that "The underlying trend in unit revenue improved, benefiting partially from Easter and a weak base last year."
Responding to competitors comments that pressures on fares may impact performance, Walsh said "We're calling it as we see it and our first half performance was very strong."
The company has also seen strong preliminary results from its low-cost long haul venture, Level, which started service in June from Barcelona. Ticket sales have exceeded expectations, and the airline has ordered three additional aircraft to meet expected demand.
The airline is also looking into other European bases for its operations, as its current route map consists of Los Angeles, San Francisco, Buenos Aires, Argentina and Punta Cana, Domican Republic.
The group currently expects operating profit for 2017 to show a double digit percentage increase versus last year, with passenger unit revenue expected to rise in the second half of the year.
Josh is a long term aviation enthusiast and aspiring commercial airline pilot. From a young age he has immersed himself in all things aviation. From plane spotting at local airports and airfields, to racking up frequent flier miles on trips abroad, Josh is a huge AvGeek at heart. He is currently in his third and final year of university in the United Kingdom, studying for a degree in Air Transport alongside his full flight training towards a frozen Air Transport Pilot's license. He currently has his PPL and CPL with around 200 hours of flying experience in various aircraft and is expected to start his Instrument rating later this year. He frequently flies on one of his favorite airlines, British Airways and is an avid Avios collector and British Airways Executive club member.

In his spare time, while not studying, flying or immersing himself in aviation he enjoys spending his time volunteering in a variety of roles and running a blog to help other aspiring pilots pursue their dream.
Latest posts by Joshua Drabble (see all)