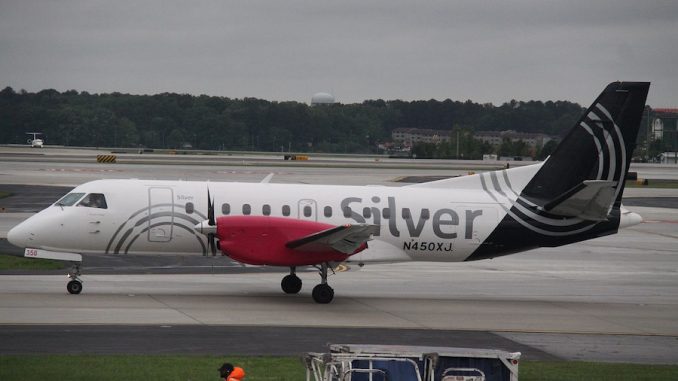 On Tuesday, Fort Lauderdale-based Silver Airways announced a major order for new aircraft and a changeup in leadership. The order will see a new aircraft type enter the fleet that will help to replace the airline's fleet of aging Saab 340s. Along with the new order, Silver will partner with a major Caribbean airline to help expand into the region.
The order for new aircraft will see up to 50 ATR turboprop aircraft join the fleet starting in 2020. Initially the order will see 20 ATR-42-600 aircraft enter the fleet. The airline holds the option of upgrading to the larger ATR-72-600 in the future. The first aircraft will be delivered to the airline by the first quarter of 2020.
Presently the Silver fleet is made up of 23 Saab 340 aircraft, each seating 34 passengers. The fleet is aging with Saab ending production of the 340 series in 1999. The new airplane seats 46 passengers in a 2 by 2 configuration. Passengers can also store their carry-on bags inside the cabin of the aircraft.
Flight crew training will be conducted by ATR at their new simulator facility in Miami. Silver believes the new aircraft will improve passenger experience as the ATRs will feature full-size lavatories, LED lighting, and a 32-inches of seat pitch.
Silver Airways also entered negotiations to partner with San Juan-based Seaborne Airlines to look at expansion into the Caribbean. Seaborne has been serving the Caribbean since 1992, also using the Saab 340 as well as De Havilland Twin Otters on floats. Seaborne also codeshares with Delta, Air Europa, and jetBlue.
Presently Silver serves just the Bahamas in the Caribbean. Seaborne serves Puerto Rico, the U.S. Virgin Islands, and the islands of St. Kitts and Anguilla. The ATR is already in use in the Caribbean with Caribbean Airlines using them for regional operations from their Port of Spain hub.
Finally, Silver Airways announced a change in leadership roles. Current CEO and President Sami Tettinen will step down from his role on August 7, making way for Steven Rossum to take over. Mr. Tettinen is stepping down due to personal reasons. Jason Bewley, currently Executive Vice President of Commercial and CFO, will take over as president of the company.
"Silver is at an exciting and very promising point in its ongoing strategic plan, and I am very pleased to have the opportunity to join this excellent team of aviation professionals," said Mr. Rossum "The momentum of our airline – as demonstrated by the order for new ATR-600 series aircraft, the potential for Caribbean expansion, and our amazing team members – were key reasons I decided to join Silver. The Company has made great strides over the past year, and we have more good things in store as we continue to upgrade our company across the board for the benefit of our passengers, employees and stakeholders. I look forward to working closely with the Silver team that works so hard for our passengers."
Steven Rossum was most recently a partner at Smith, Gambrell, and Russell, and served as the CEO of the law firm's aviation consulting business. In the past, he has been a senior executive with Pinnacle Airlines, as well as serving as general counsel for AirTran Airways, Reno Air, and DHL Air Cargo.

Daniel has always had aviation in his life; from flying to the United States when he was 2, to flying to Tampa and Las Vegas for family vacations. Aviation has always had a strong influence in his life. Daniel grew up in Indianapolis, Indiana and moved to his current South Florida home in 2010. He favors Ft. Lauderdale-Hollywood International Airport but also fly's out of Miami International Airport when traveling back to his native England. He is currently attending Nova Southeastern University in Davie, Florida and is on track to graduate in 2018 with a degree in Human Factors in Aviation and his pilot's license. When he graduates he hopes to become a commercial pilot.

Latest posts by Daniel Morley (see all)