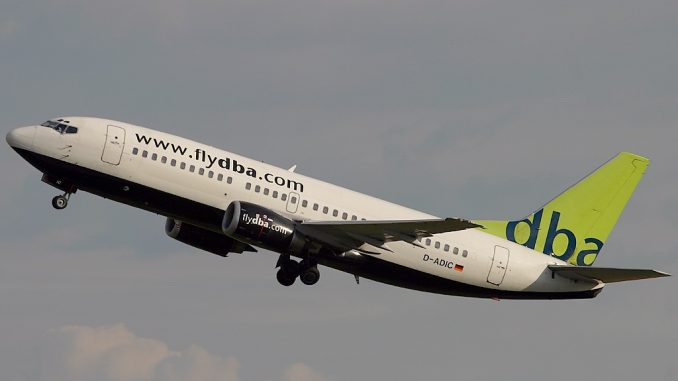 British Airways foray into other European airlines began in 1992, when it purchased a 49% stake in Delta Air, a German regional airline based in Friedrichshafen. British Airways renamed the airline Deutsche BA (dba) and proceeded to change the focus of the airline. In 1997, the airline acquired the remaining 51% in Deutsche BA to gain sole control of the airline.
Under the British Airways brand, the airline streamlined the fleet into the Boeing 737-300. Deutsche BA focused on regional routes within Germany, connections to British Airway's hub in London Gatwick, and connecting to oneworld hubs, particularly in Helsinki and Madrid. The airline also moved hubs from Friedrichshafen to Berlin and Munich, under British Airway's guidance.
The forray into the German market would not last though. In 2000, Bob Ayling was ousted as the CEO of British Airways. The change in leadership lead to a review of all operations for British Airways, including Deutsche BA. In May of 2001, it was announced that Deutsche BA had lost £15 million since British Airways took over.
In the early 2000s, Easyjet was attempting to purchase British Airway's U.K. subsidiary, Go Fly. In May 2002, the Luton-based airline announced it entered an exclusive agreement with British Airways to purchase the airline. British Airways gave Easyjet a deadline of March 31, 2003 to complete the deal. However Easyjet pulled out of the deal in March of 2003 due to the economic climate at the time.
Two months later, British Airways announced that it would sell Deutsche BA to Intro Verwaltungsgesellschaft, a German aviation investment company, for 1 euro. In return, British Airways would invest £25 million into the airline and guarantee the fleet for one year. British Airways would receive 25% of the profits from the airline or from the sale of the airline. As part of the transfer of ownership, the airline was renamed to dba.
In March of 2005, the airline turned its first profit since being founded in 1992, making somewhere between 1 and 2 million euros. The same month, dba acquired Germania Express, creating the third largest airline in Germany behind Lufthansa and Air Berlin. The acquisition also included Germania Express' fleet of Fokker F100 aircraft, creating a mixed fleet for the first time since BA purchased Delta Air in 1992.
In early 2006, dba announced it was planning to purchase 60% of leisure carrier LTU. The partnership would see dba providing feeder services in Germany, and the region to LTUs long-haul network in Munich and Düsseldorf. However, later that year dba announced a change in ownership.
In August of 2006, Air Berlin announced that it would be purchasing 100% of the shares in dba. Dba would continue to operate independently under the Air Berlin operated by dba moniker. The two airlines flight schedules were synchronized for the winter travel season. The two airlines continued to operate independently until November of 2008 when Air Berlin announced the dba brand would be dissolved, and the dba planes will be integrated into the Air Berlin fleet.

Daniel has always had aviation in his life; from flying to the United States when he was 2, to flying to Tampa and Las Vegas for family vacations. Aviation has always had a strong influence in his life. Daniel grew up in Indianapolis, Indiana and moved to his current South Florida home in 2010. He favors Ft. Lauderdale-Hollywood International Airport but also fly's out of Miami International Airport when traveling back to his native England. He is currently attending Nova Southeastern University in Davie, Florida and is on track to graduate in 2018 with a degree in Human Factors in Aviation and his pilot's license. When he graduates he hopes to become a commercial pilot.

Latest posts by Daniel Morley (see all)