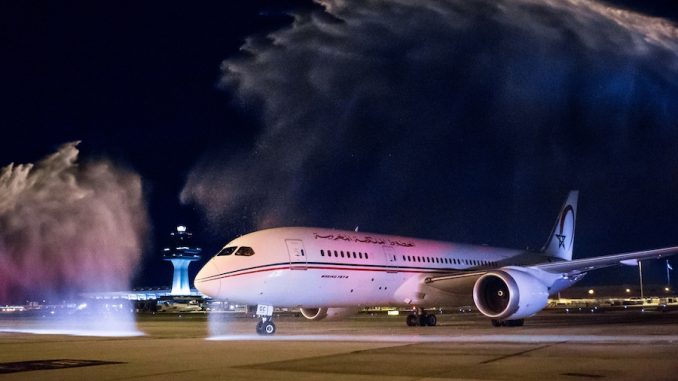 Starting on September 8th, Morocco based Royal Air Maroc will operate three-times weekly service to Washington Dulles International Airport.
Washington, D.C. is the airline's third North American destination along with New York (JFK) and Montreal (YUL). Royal Air Maroc will utilize their 787 Dreamliner on the new route.
Flight 218 from Casablanca touched down in Washington at 9:55 PM EST. The outbound flight departed at 11:40 PM EST.
Royal Air Maroc will operate the route on Tuesdays, Thursdays, and Saturdays. The schedule is perfectly connected for passengers wishing to transfer onto other flights from the airline's hub in Casablanca. Passengers can connect to destinations such as Dakar, Lisbon, Nairobi, and Marrakesh.
"Royal Air Maroc's new Boeing 787 Dreamliner service to Casablanca, Morocco, provides passengers another important destination from Dulles International, the region's international gateway airport," said Mike Stewart, the Vice President of Airline Business Development at Washington Dulles International Airport. "This new service also allows passengers in the national capital region to easily connect to more than 95 other Royal Air Maroc destinations."
The airline's new 787s feature 18 business class, flat-bed seats and 256 economy seats.
*Photos by J David Buerk Photography 
Ryan founded AirlineGeeks.com back in February 2013 (actually, it was called Aviation Official, but we've changed a bit since then). From being on the yoke of a Piper Navajo, to visiting about Delta's operations center in Atlanta, Ryan has done it all. in 2016, along with American Airlines, Ryan masterminded AAviationDay at more than 10 locations around the world. The smell of jet fumes in the morning along with the countless number of passionate airline employees keep him enthralled in the industry, always seeking more. You can find him helping out travelers at Reagan National Airport near Washington, D.C. when he's not doing something for AirlineGeeks.
Latest posts by Ryan Ewing (see all)