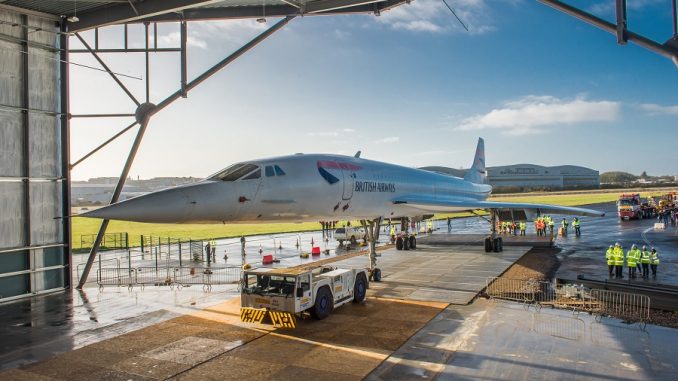 Aerospace Bristol has finally moved the Concorde G-BOAF to its new £19 million home. The last ever Concorde made, G-BOAF, was built in Bristol in 1978. An additional £2 million is still needed to finalize the last bits and pieces of construction. The very complex and important move has been years in the making and was conducted by engineers from both British Airways and Airbus.
Iain Gary, Chairman of Aerospace Bristol, comments, "We couldn't be more delighted to the welcome Concorde 216 to her new purpose-built home. With such enthusiasm for Concorde in this country, and particularly in Bristol where she was designed, built and landed for the final time, it is only fitting that this magnificent aircraft should have a permanent home at Filton. I would like to thank all of our donors for helping to make Aerospace Bristol a reality and look forward to welcoming our first visitors on board this summer."
Mark Stewart, General Manager and HR Director, Airbus commented on the completion of the transportation of Concorde 216 to its new home adding,"Airbus has been the proud custodian for Alpha Foxtrot since 2003 and has been keen that we could find a permanent location for such a fantastic historical exhibit of Filton engineering skills. After 13 years of caring for the aircraft we are pleased to deliver her to Aerospace Bristol so that people can visit and admire her for years to come."
Bristol Filton has a sizable history in aviation which showed in the earliest days of aviation when the Bristol Boxkite biplanes flew from Filton Airport over the Clifton suspension bridge. Aerospace Bristol said that customers will be transported through more than 100 years of aviation history at Filton Airport, depicting how it first opened in 1910 to when it shut down 5 years ago in 2012. The journey takes customers through both World Wars, the space race and all the way up to when the airfield closed. Hopefully, this will help inspire a new generation of engineers and aircraft designers by showing people the amazing technological achievements that have been made in aviation from Bristol in the 100 years of its life.
G-BOAF, also known as Concorde 216, was built in 1978 and made its maiden flight in 1979. When it was first built it was registered to British Aerospace under the registration G-BFKX, but when a deal for Singapore Airlines to buy it fell through British Airways had the aircraft re-registered under its current number G-BOAF in June 1980.
Concorde 216 had a troubling start to its career in commercial aviation. It was the first ever Concorde to suffer a rudder separation failure, where a part of the upper rudder detached from the aircraft in flight. Over the following years, similar incidents would take place on all British Airways and Air France Concordes. All aircraft were fitted with new upper and lower rudders, which cost both companies millions of pounds in maintenance.
Concorde 216 was also the first Concorde to receive the new design upgrades following the Air France Concorde crash in July 2000. These new upgrades featured the use of fitting out fuel tanks with kevlar and strengthening the electric cables on the aircraft's gear.
After completing these upgrades on all Concorde aircraft, Concorde 216 was used by British Airways to restart the flying initiative. This, however, did not last. In 2003, Concorde made its last commercial service flight from New York John F Kennedy International Airport to London Heathrow, bringing an end to the era of supersonic commercial travel. The last ever flight of a Concorde aircraft was operated by G-BOAF when the aircraft flew for the last time on Nov. 26, 2003 to its final resting place of Filton Airfield, where it has remained since.
G-BOAF was the first British Airways aircraft to be repainted in the then new British Airways 'Utopia' livery and wears the Union Flag scheme, which is officially called the Chatham Historic Dockyard. This new livery was initially only destined to be used on British Airways' fleet of Concordes, but would later become the standard livery for all British Airways aircraft. Since Concorde 216 was the first aircraft in this livery, it has been at the forefront of British Airways' publicity and air to air photos.
Tomos has had a keen interest in aviation for over 10 years and 4 years ago he decided to take it to the next level. He currently holds a private pilot's license and is working towards his commercial license.
Latest posts by Tomos Howells (see all)