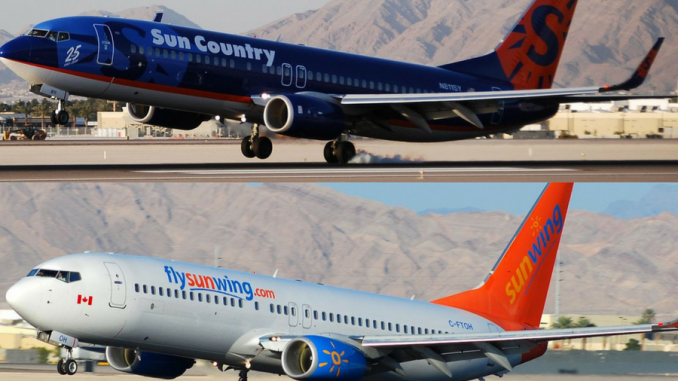 When winter rolls around it is always common to find people looking for ways to fly south and two airlines have made a profit on the idea of flying from snow to sun: Minnesota-based Sun Country Airlines and Ontario-based Sunwing Airlines.
Sun Country is the older of the two with its first flight taking place in 1982. Sun Country was formed from the ashes of bankrupt Braniff International and after the collapse, a group of 36 ex-Braniff employees who were based in Minneapolis decided to open an airline of their own.
The early fleet consisted of Boeing 727s and Douglas DC-10s as the low-cost carrier tried to find routes and destinations that worked while battling competitor Northwest. While finding gaps in a large hub was tedious, the carrier found success with leisure route to the southwest and Florida. Routes to Mexico and the Caribbean islands followed suit as well as adding more Boeing 727s to the fleet.
Since then, the carrier has ebbed as oil prices and demand have hurt the Minneapolis-based airline. As the airline expanded in the mid-1990s, the carrier shifted their focus on cities like Seattle, Milwaukee, and Detroit and the carrier started a fleet renovation with the purchase of the Boeing 737-800.
However, the Boeing 727s and Douglas DC-10s were causing financial issues and the airline was losing money due to competition with Northwest and the high fuel prices caused by the Gulf War. Despite cutting costs, the carrier filed for bankruptcy in 2001.
While in bankruptcy, Sun Country lost almost their entire fleet, changing hands to MN Airlines LLC who in turn restarted operations with an operating certificate and one Boeing 737-800. MN Airlines restarted Sun Country as a charter airline running casino routes to Las Vegas and eventually adding charter flights to Florida and the Caribbean.
Since then the carrier has started to expand again, adding commercial flights to Florida, the Caribbean, and the southwest U.S. Sun Country also started to expand outside of Minnesota, adding focus cities in Dallas-Ft. Worth and Ft. Myers. The carrier also experimented with flights from Lansing but the service was suspended in October 2015.
While Sun Country was being revitalized in Minnesota, Sunwing was just starting. The Canadian travel group Sunwing Vacations was looking for a way to provide a service to their travelers and CEO Colin Hunter wanted to start an airline to provide flights to the Caribbean.
With the approval of the staff, Sunwing Airlines was born. The carrier started service from Toronto in 2006 with the use of a Boeing 737-800. The carrier has rapidly expanded, adding over 30 Boeing 737-800s and adding routes from Edmonton, Calgary, Winnipeg, Ottawa, Vancouver, Quebec City, and St. Johns while also opening up a secondary hub in Montreal.
The airline's more popular destinations include Varadero, Punta Cana, Cancun, and Montego Bay, which usually see service from over five cities in Canada. The carrier had been helped by the collapse of Canada's older leisure carriers with Canada 3000 closing in 2001, SkyService in 2010, and CanJet in 2015.
Sunwing does overlap with Air Canada Rouge and Air Transat on some routes but has managed to fight off the competition. Sunwing has also expanded into the United States, operating flights to the Caribbean from Pittsburgh, Nashville, and Milwaukee for Apple Vacations.
So where does this put these two airlines today? In fairly similar situations; both carriers now operate all Boeing 737 fleets with Sunwing operating 36 (all 737-800) aircraft and Sun Country with 25 (six 737-700, 19 737-800) aircraft.
Sunwing runs a large amount of charter flights to the Caribbean and domestic commercial flights in the summer while Sun Country operates charter flights to Las Vegas as well as football charters in the fall. Both carriers see peak operations during the winter and spring when Caribbean destinations are in demand. It is common to see these airlines lease out aircraft as well.
During the summer months, it is common to see Sunwing leasing aircraft to Travel Service and TUI Group. Meanwhile, Sun Country will lease aircraft to TUI Group and Transavia in the summer and reverse the deal in the winter travel season.
Since 2000 both of these carriers have found their stride. The ability to provide the 'snow to sun' routes that the winter leisure traveler tends to prefer helps these airlines turn a profit and the leasing and chartering business keeps the fleet busy when the demand isn't there.
While both of these airlines do see stiff competition, they have managed to find a groove that works for them and expand to provide more options to people in northern regions.
Although Ian McMurtry was never originally an avgeek, he did enjoy watching US Airways aircraft across western Pennsylvania in the early 2000s. He lived along the Pennsylvania Railroad and took a liking to trains but a change of scenery in the mid-2000s saw him shift more of an interest into aviation. He would eventually express this passion by taking flying lessons in mid-Missouri and joining AirlineGeeks in 2013. Now living in Wichita, Kansas, Ian is in college majoring in aerospace engineering and minoring in business administration at Wichita State University.
Latest posts by Ian McMurtry (see all)