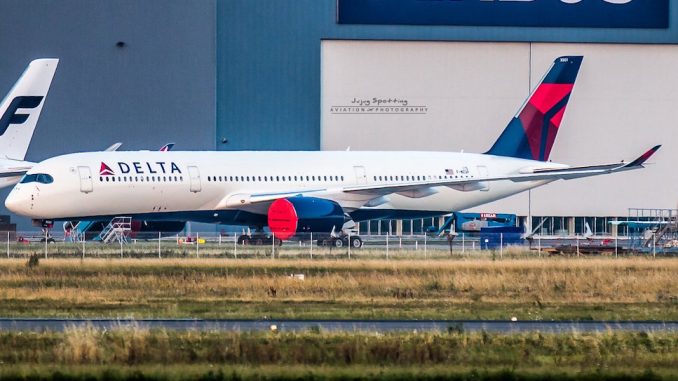 On Wednesday, Delta's first Airbus A350-900XWB emerged from the paint shop near the manufacturer's facility in Toulouse, France dawning the carrier's paint scheme. This is the first of 25 frames that the Atlanta-based airline currently has on order.
Delta's "flagship" A350 will feature the carrier's highly-anticipated Delta One Suites in addition to a new premium economy product called Delta Premium Select. In total, the aircraft will be configured with 32 seats in the Delta One cabin, 48 seats in Delta Premium Select, and 226 seats in economy.
The airline's A350-900XWB aircraft will also see Gogo's 2Ku Wi-Fi service, which offers high-speed, gate-to-gate internet access throughout the globe. Passengers can also expect larger overhead bins and LED mood lighting.
The paint job is another step in the right direction as the airline prepares to take delivery of their first A350 in July replacing older widebody jets, including the iconic Boeing 747. Delta's first A350XWB, registered as F-WZGP, completed its maiden flight on May 23, 2017 in Toulouse. The aircraft is expected to wear the registration N501DN when it arrives in the U.S.
Last month, the carrier deferred 10 A350-900XWB orders while purchasing 30 additional Airbus A321 aircraft. These airplanes were slated to be delivered in 2019-2020 but are now delayed by two to three years.
"These agreements better align our widebody and narrowbody order books with our fleet replacement needs," said Gil West, Delta's Senior Executive Vice President and Chief Operating Officer.
"We appreciate the partnership of Airbus, Rolls-Royce and GE Aviation as we exercise what's best for our business, our employees and our customers," West added.
With the upcoming Airbus A350-900XWB delivery, Delta will become the first operator of the type in the U.S.
Editor's Note: All images in this story are courtesy of Jujug Spotting 
Ryan founded AirlineGeeks.com back in February 2013 (actually, it was called Aviation Official, but we've changed a bit since then). From being on the yoke of a Piper Navajo, to visiting about Delta's operations center in Atlanta, Ryan has done it all. in 2016, along with American Airlines, Ryan masterminded AAviationDay at more than 10 locations around the world. The smell of jet fumes in the morning along with the countless number of passionate airline employees keep him enthralled in the industry, always seeking more. You can find him helping out travelers at Reagan National Airport near Washington, D.C. when he's not doing something for AirlineGeeks.
Latest posts by Ryan Ewing (see all)