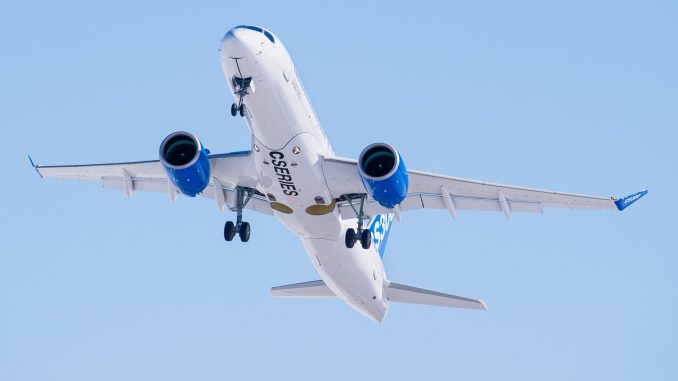 In October of 2009, British Airways launched a unique route titled "Club World London City," offering a business class only configuration of the Airbus A318. While the service is certainly unique, it isn't flawless. Due to aircraft range limitations and in order to land as a domestic flight in New York, the aircraft touches down not long after departure from London City in Shannon, Ireland clears US customs, fills up its fuel tank and then departs once again.
Given that few customers have lined up to order the Airbus A318 since its induction and there have been no deliveries made since 2013, it has become a unique opportunity to fill the aircraft gap for British Airways' service. Sure enough, one aircraft, the Bombardier CS100, could certainly help serve this unique route for several reasons.
Completed Testing in London
Canadian Aircraft manufacturer Bombardier has successfully completed their first nonstop transatlantic flight with the CS100 aircraft, which was released last year. The aircraft had been at London City Airport conducting steep approaches in order to get its steep approach certification from Transport Canada and EASA. The test flights were successful and the company is expecting to receive this new certification in the second quarter of the year.
Rob Dewar, Vice President of the CSeries Aircraft Program at Bombardier Commercial Aircraft in a statement said: "The CSeries aircraft program achieved another significant milestone with the completion of the demonstration tests at LCY. The CSeries is the only commercial aircraft that was specifically designed for operations at LCY and we are very proud of its performance."
Bombardier already has extensive experience operating into London City airport which is a common place to spot the company's Q400 dual turboprop aircraft, as well as the Challenger 650 and Global 5000 and 6000 business jets.
Dewar continued by saying "This confirms the CSeries aircraft's unparalleled capabilities, the aircraft is meeting all performance expectations and clearly demonstrates that it is the best performing and most efficient aircraft in the 100 to 150-seat class."
Declan Collier, CEO of London City Airport in a statement said: "It has been a pleasure to welcome the Bombardier CS100 aircraft and its team to London City Airport for the first time, as part of their testing and evaluation process. Following the landmark CSeries non-stop flight to JFK, we look forward to the completion of its regulatory certification, followed by entry into commercial passenger operation with SWISS."
Titan Approaches British Airways
British Airways originally operated the "Club World London City" service twice daily, but as time has gone on and demand has weakened, British Airways opted to reduce service down to one flight a day.  Since reducing service, British Airways also leased one of its A318s to Titan who will be operating the aircraft for 2 years with an option to buy at the end and will be keeping the all-premium 32 aircraft for the first seven to nine months until the aircraft is reconfigured into an 112 seater economy only layout.
Titan had approached British Airways after they had elected to reduce the service to one flight, inquiring on whether or not there would be a "potential wind down." With no official comment from the airline or its owner, IAG, in regards to the future of the service and the aircraft, it is all just speculation and opinions at this time.
In my opinion, we are likely to see British Airways opt for the CS100, as it will allow them to remain more competitive for this route, as while they are currently the only airline that operates the London City Airport to New York route, this will soon change. An Airline called ODYSSEY Airlines has already confirmed their order for the CS100 and is currently advertising direct flights from London City to New York, which are due to begin this year.
New Aircraft vs. Dropped Route
With the CS100 having the ability to carry an all premium cabin layout of 40 seats, it would be a unique opportunity for British Airways to have it replace the Airbus A318-100 that currently operates the London City to New York route. While the A318 does not have the range to make the flight directly with its stop at Shannon Airport in Ireland, the CS100 would be able to do land in New York without stopping, assuming it could find a way to have its passengers clear customs in the UK or just in the United States as most international flights do. 
With reduced demand for the service, rising seat costs due to fuel prices and the growing presence of ODYSSEY at City Airport, it is possible that we could see the end of this iconic flight from British Airways.
With the CS100 offering 8 more seats than the A318, it is unlikely that this aircraft has a long future left ahead of it for this route. With Britain leaving the European Union, avoiding the stop at Shannon is something that British Airways may opt to do, as with the free movement of people potentially becoming a thing of the past, the passenger would not only need to clear not only the U.S. immigration stand but would also now need to clear the EU immigration checks.
All in all, British Airways would not appear to have much in the way of a choice with their aircraft selection. However, the CS100 has marked a new moment for all-premium transatlantic flights and could serve the airline well if it continues to offer its unique service from London City to New York. 
This story was updated on June 7 at 3:24 p.m. ET to resolve wording issues regarding Shannon, Ireland 
Tomos has had a keen interest in aviation for over 10 years and 4 years ago he decided to take it to the next level. He currently holds a private pilot's license and is working towards his commercial license.
Latest posts by Tomos Howells (see all)