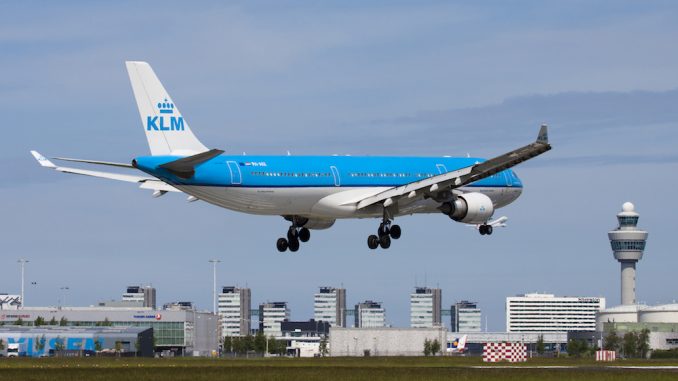 The newfound attention aviation is facing around carbon emissions continues to grow. Recently, airlines have been branded as significant polluters of the world with more and more people looking for ways to penalize the activity of flyers and airlines. This has become so prevalent in some countries that they have created a name for it.
In Sweden, they came up with a word, flyskam, which literally translates to "flight shame." It originated from an anti-flying movement that is encouraging people to stop taking flights to lower carbon emissions. It actually is having an impact in Sweden with a spike in train travel. It has also garnered the attention of Alexandre de Juniac, head of IATA, who said that "unchallenged, this sentiment will grow and spread."
Growing Anti-Flying Sentiment
Well, Alexandre was right. From Sweden, it had grown to the Netherlands and France, and now it's gone even farther with finance ministers from Italy, Belgium, Germany, Luxembourg, Denmark and Bulgaria joining the French and Swedes in an attempt to start taxing aviation. Their main point is to neutralize the environmental damages of aviation.
They issued a joint statement to the European Commission to introduce this new tax stating "we believe that more coordination on pricing of negative externalities of aviation could ensure that the polluter pays a fairer price for the use of aviation transport."
Their logic is that flying is considered underpriced in comparison to other forms of transportation and there needs to be a greater tax to help correct this problem. Though it has been noted that a carbon price alone probably won't be enough to decarbonize aviation.
With or without the European Union the Netherlands is charging forward with their tax, though it's not the first time they've tried this. In 2008 the country implemented a similar tax however ended up dropping it because citizens ended up going to nearby airports in Belgium and Germany to avoid the tax in Holland. Hence the likely push to get everyone on board so no one can escape the taxation.
Impact on Flyers
This has gotten push back from many. Ryanair aptly commented that they pay hundreds of millions of euros in environmental taxes already and the taxes are often hypocritical because it exempts connecting passengers who do more environmental damage due to the more flights they take. The airline also stated that these double standards should be fixed before more taxes are levied on ordinary people who take point-to-point flights, the bread and butter of Ryanair.
There are arguments that the tax would disproportionally impact the less wealthy who travel on cheaper tickets. A fixed tax would result in a greater percentage increase in cheap fares than for expensive ones, effectively pricing out many people. The rich will continue to fly while the ordinary person may often be priced out. There is no doubt that passengers are price sensitive, the growth of basic economy and Dutch citizens traveling to other countries to take flights prove this
Consultancy CE Delft recently ran a study that shows a tax could result in a 10 percent increase in the average price and an 11 percent decline in passenger demand.
The whole taxing aviation, however, doesn't really seem to be a revenue grab at this point. While it can be a way to bulk up treasuries a bit the comment letter sent to the European Commission specifically refers to passengers as "polluters" implying that this tax is mainly to be a punitive measure
However, the industry is already shrinking its carbon footprint with several fuel-efficient measures. It is in everyone's best interests to burn less fuel given that a large chunk of costs for an airline come from fuel. Airlines are already implementing measures such as single-engine taxiing and new generation aircraft along with engines that are considerably more fuel-efficient and cut between one and two percent of emissions per year. The IATA also has plans to achieve carbon-neutral growth by 2020 and cut emissions in half from 2005 levels by 2050, this seems a bit ambitious to be taken too seriously.

Hemal took his first flight at four years old and has been an avgeek since then. When he isn't working as an analyst he's frequently found outside watching planes fly overhead or flying in them. His favorite plane is the 747-8i which Lufthansa thankfully flies to EWR allowing for some great spotting. He firmly believes that the best way to fly between JFK and BOS is via DFW and is always willing to go for that extra elite qualifying mile.

Latest posts by Hemal Gosai (see all)