Weaving between the Southwest 737's and the jetBlue A320's that dominate Ft. Lauderdale-Hollywood International Airport are the tiny Saab 340's of Silver Airways. The planes may be a lot smaller than the national airlines counterparts, but Silver still makes a big impact on Florida. The airline mainly operates between Florida and the Bahamas and within Florida. They also serve EAS (Essential Air Service) routes out of Washington D.C.
Silver Airways was born in 2011, rising out the ashes of Gulfstream International Airlines after their 2010 bankruptcy, and subsequent liquidation. They quickly worked to replace Gulfstream's fleet of Beechcraft 1900D's with the Saab 340's Silver now exclusively operates. Since 2011, the airline has expanded its route network tremendously. Today most of their operations focus on their hub at Ft. Lauderdale-Hollywood International Airport, where a majority of their Bahamas flights originate. Currently their intra-Florida service stretches across Florida, from Pensacola on the panhandle to Key West at the southernmost tip.
Silver has partnerships with numerous airlines across the U.S. to help with their Bahamian flying. Flyers can earn jetBlue TrueBlue points and United MileagePlus miles for flights on Silver. The airline recently added Alaska Airlines as an interline partner, helping customers on the West Coast reach the Bahamas more easily. American Airlines, Bahamasair, Delta Air Lines, jetBlue, and US
Airways also have interline agreements with Silver.
Travelers in Florida has faced a similar dilemma similar to Texans and Californians have; the major cities are hours apart by car. Silver helps to solve this problem. A businessman in Pensacola can simply head to Pensacola Airport in the morning, fly to Orlando for a business lunch and be back in Pensacola for dinner. Driving would take half the day, compared to the hour and a half flight on Silver.
Silver Airways has developed into Florida's local airline. For people in Broward County, the company's distinct silver and fuchsia livery and buzzing Saab aircraft are a common sight overhead. They provide Florida business people with a faster and more convenient way to reach the spread out cities of Florida. Silver Airways has enabled college students in Tallahassee and Gainesville can come home quicker, and businessmen to get home to their families after a day away.
Interested in Silver Airways? Check out their website.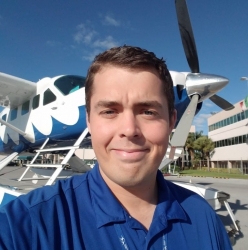 Daniel has always had aviation in his life; from moving to the United States when he was two, to family vacations across the U.S., and back to his native England. He currently resides in South Florida and attends Nova Southeastern University, studying Human Factors in Aviation. Daniel has his Commercial Certificate for both land and sea, and hopes to one day join the major airlines.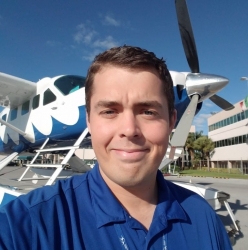 Latest posts by Daniel Morley (see all)